Silicone Gel offers refractive index of 1.40.
Press Release Summary: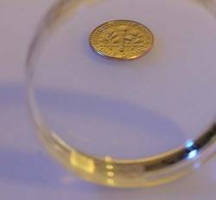 Providing protection from mechanical shock, optically clear LS-3140 is suited for use as encapsulating, embedding, or potting compound for environmental protection of electronic assemblies. Low outgassing gel handles stress during thermal cycling without cracking or delamination. To meet multitude of processing requirements, LS-3140 cures at room temperature, or cure can be accelerated with heat. It is best suited for applications requiring operating temperature of -94 to 392°F.
---
Original Press Release:

NuSil Technology Set to Launch New Optical Encapsulation Gel at EuroLED 2009



Carpinteria, CA (Vocus) May 19, 2009 -- NuSil Technology (http://www.nusil.com) (www.nusil.com), a cutting-edge manufacturer of silicone-based materials for aerospace, aircraft, electronics and photonics industries, is set to release its LS-3140 at EuroLED 2009. LS-3140 is an optically clear, encapsulating gel with a refractive index of 1.40. Samples will be available to view at NuSil's stand n°4.

Providing excellent protection from mechanical and thermal shock, LS-3140 is ideal for use as an encapsulating, embedding or potting compound for the environmental protection of electronic assemblies and components. It is recommended for applications when a radiation-resistant, optically stable silicone is needed for encapsulating sensitive photonics, including LED assemblies and optical MEMs.

LS-3140 is a clear, tough gel that, due to its low modulus, handles stress during thermal cycling without cracking or delaminating. It is best suited for applications requiring an operating temperature range of -70°C to 200°C (-94°F to 392°F). LS-3140 is also low outgassing and recommended for applications requiring minimal volatile components to avoid contamination in sensitive devices.

"NuSil understands that the growth rate of traditional and non-traditional lighting applications, as well as MEMS, are really challenging the material supplier to meet the long-term reliability and performance needed," said Brian Nash, vice president of Marketing and Sales. "LS-3140 is the latest addition to our line of optically clear silicone gels and is a great choice for potting and encapsulating optics, as it is designed to remain optically stable and is tough enough to handle the stresses from thermal cycling. We also believe optoelectronics and microelectronics applications will benefit from the low levels of volatile silicones in LS-3140."

LS-3140 is easy to use in almost any application. Not only can it be reworked, but its extended work time allows voids in complex assemblies to fill in and permits time for any trapped air bubbles to float to the fluid surface and escape. To meet a multitude of processing requirements, it cures at room temperature or the cure rate can be accelerated with heat.

For more information on NuSil's silicones for photonics and electronics, visit www.nusil.com/photonics or call 805-684-8780.

About NuSil Technology

NuSil is a cutting-edge manufacturer of silicone compounds for healthcare, aerospace, electronics, photonics and other applications that require precise, predictable, materials performance. ISO-9001-certified since 1994, NuSil operates state-of-the-art laboratories and processing facilities in North America and provides on-site, in-person application engineering support worldwide. More information about NuSil Technology can be found at www.nusil.com

More from Electrical Equipment & Systems