SDS1202X-E Digital Oscilloscope can record up to 80,000 frames of waveforms.
Press Release Summary: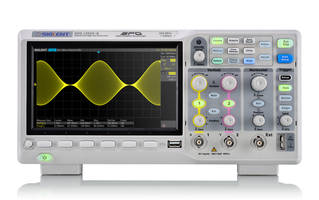 Equipped with hardware co-processor with advanced measurement and math (FFT, integral, differential, square root) capabilities, SDS1202X-E Digital Oscilloscope supports 500uV/div to 10V/div voltage settings. Delivering 1GSa/s of sampling rate and up to 100,000wfms/s and 400,000wfms/s waveform capture rate in normal and sequence mode respectively, unit comes with USB host, USB device, LAN, Ext Trig, Pass/Fail and Trig Out interfaces.
---
Original Press Release:
Saelig Intros Economical 200MHz SDS1202X-E Super Phosphor Oscilloscope
Fast refresh rate, advanced triggering, deep memory help this new scope break a new price/performance barrier
Saelig Company, Inc. (www.saelig.com) has introduced the Siglent SDS1202X-E 200MHz Digital Oscilloscope with improved Super Phosphor Technology at a remarkably affordable price. With a real-time sampling rate of 1GSa/s, this new 200MHz scope features waveform capture rates of up to 100,000wfms/s in normal mode and 400,000wfms/s in sequence mode. The SDS1202X-E has a waveform record memory of up to 14Mpoints, and a 256-level color and intensity grading and color temperature display. Together, these technologies have been collectively dubbed by the manufacturer as "SPO" (Super Phosphor Oscilloscope) technology. The low-noise design allows measurements of very small signals, and the scope supports 500uV/div to 10V/div voltage settings, with most of the common adjustments quickly accessible with single-button front-panel control.
The SDS1202X-E Oscilloscope's design includes a hardware co-processor that delivers measurements quickly and accurately, facilitating an array of advanced measurement and math capabilities (FFT, integral, differential, square root) with serial decoding (I2C, SPI, UART, RS232, CAN, LIN) included as standard. The 1 million-point FFT math function gives the SDS1000X-E improved high frequency resolution when observing signal spectra compared to similar products. The History function can record up to 80,000 frames of waveforms, easily accessible from the control panel.
The SDS1202X-E Oscilloscope includes an innovative digital trigger system with high sensitivity and low jitter, producing stable waveform displays. Multiple powerful triggering modes are provided, including serial decode triggering. Thirty-eight automatic measurements and statistical functions are also included to support electronics testing and a high-speed Pass/Fail capability. Also included are a variety of useful interfaces: USB Host, USB Device, LAN (VXI-11, LXI-C), Ext Trig, Pass/Fail, Trig Out, and the capability of accepting SCPI remote control commands.
The SDS1202X-E Oscilloscope is manufactured by Siglent Technologies, which has been providing high quality digital storage oscilloscopes to customers all over the world since 2002, exporting to more than 40 countries. With more than 13 years of experience in DSO research and manufacturing, Siglent is one of the world's leading DSO manufacturers.
The features and performance of Siglent's new SDS1000X-E cannot be matched anywhere else in this price class. It is available now at only $379 from Saelig Company, Inc. A full range of current and voltage probes is also available. For detailed specifications, free technical assistance, or additional information, please contact Saelig at 1-888-7SAELIG, via email: info@saelig.com, or visit www.saelig.com.
About Saelig Company Inc.
Founded in 1988 in Rochester, New York, Saelig is a North American distributor with a growing reputation for finding and sourcing remarkable, unique test and measurement and control products and components for use in a wide variety of industries. Products lines are continuously added from sources across the globe, and are offered at competitive prices, accompanied by full in-house technical support, exceptional customer service, and fast delivery. For full details of available product lines, please visit www.saelig.com.
Contact Information
Email: info@saelig.com
Phone: 585-385-1750
Fax: 585-385-1768
More from Sensors, Monitors & Transducers