SCHURTER EC12 Series Power Entry Module with EMC Filter Adds CQC Approval Mark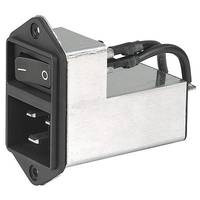 Santa Rosa, California, Feb 16, 2022 – SCHURTER's EC12 series Power Entry Module (PEM) has received the CQC approval mark, which is mandatory for PEMs with EMC filters used in China. The widely accepted IEC Power Entry Module, with integrated C20 appliance inlet and 2-pole ON/Off switch, is ENEC approved up to 16 A at 250 VAC and cURus approved up to 20 A at 125/250 VAC.
The EC12 is offered with current ratings 12, 16 and 20 A for standard or medical low leakage applications. Ideal for applications with high transient loads, the switch features a high inrush current withstand according to IEC/EN 61058-1. It is also offered with illumination, as well as other marking options or I/O marking orientation. The appliance inlet can be specified to mate with V-Lock cordsets, which are offered in varying lengths and country-specific plugs to safeguard against unintentional disconnection.
The CQC Mark Certification is otherwise a voluntary product certification sanctioned by the China Certification & Inspection Group (CCIC) to manage the process for manufacturers interested in pursuing the China Compulsory Certification (CCC). It is a certification system in which merchants voluntarily participate. The voluntary product certification service (called CQC mark certification) carried out by CQC certification indicates that the product meets the relevant quality, safety, environmental protection, performance, and other standards by imposing the CQC mark.
Data sheet link for the EC12 is www.schurter.com/en/datasheet/typ_EC12.pdf. For sales and product information, contact Cora Umlauf at (800) 848-2600 or by email at [email protected]
About SCHURTER Inc.
The SCHURTER Group is the world's leading Swiss technology company providing components and complex solutions that ensure safe power supply and simplified equipment operation. The company's professional competence, financial independence, innovative strength and distinctive corporate culture, propel the SCHURTER Group, together with its customers and partners, into the digital future. The safe&easy brand claim not only refers to the products, but also the company's business philosophy, which strives for sustainable success through innovation, high-quality products and service, flexibility and proximity to customers.
SCHURTER is known globally as an innovator, manufacturer and distributor of fuses, connectors, circuit breakers, switches, EMC products, and input systems. Touch screens and touch panels, capacitive sensor keypads, membrane keypads and housing systems are developed in close cooperation with its customers. Within its business unit Solutions, SCHURTER combines all competencies and puts them at the customer's disposal. SCHURTER products and solutions are developed especially for specific industry segments – medical, data and communication, automotive, avionics & space, energy and the broader industrial market. SCHURTER considers the quality of its products and services as the key factor to the company's lasting success. Its management and improvement processes are designed and certified according to ISO 9001, ISO 13485, ISO 14001, ISO 45001 and IATF 16949, using the EFQM and Baldrige Excellence Models, as well as the application of Lean Management principles such as Value Stream Planning, Power Innovation, SSO, and Six Sigma.
SCHURTER Inc., Santa Rosa, California is the exclusive North America sales and distribution office for the SCHURTER Group