Sandvik's Latest CoroMill® 331 Indexable Insert Cutters Come with Light Cutting Geometries
Press Release Summary: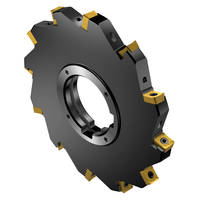 Sandvik's CoroMill® 331 Indexable Insert Cutters enhance process security and component quality. Units provide 90° corners and increased metal removal rates. CoroMill 331 can be used with Silent Tools™ damped adapters and feature short arbor cutter bodies. The enhanced cutters are suitable for applications such as double half-side machining, shoulder milling, face milling, back-face milling, gang milling, and circular interpolation.
---
Original Press Release:
Even Better Groove Milling: Key Updates to Proven Groove Milling Solution
By using the latest CoroMill ® 331 indexable insert cutter from cutting tool and tooling systems specialist Sandvik Coromant, manufacturers are set to enjoy trouble-free precision groove milling in an easy-to-use format. The new features set to deliver multiple advantages to customers include internal coolant and light cutting geometries for stable and secure machining.
"We have introduced a number of new features that help meet customer demands such as process security, component quality, and cost," explains Jenny Häll , Product Manager Groove Milling at Sandvik Coromant. "Arguably most notable is the addition of internal coolant, which helps regulate heat in the cutting zone for long and predictable insert tool life. This factor is especially beneficial in ISO M and ISO S materials [stainless steel and heat-resistant alloys], which exhibit poor thermal conductivity. Additionally, internal coolant provides excellent chip evacuation, a key factor for groove quality and process security."
Enhanced process security promotes trouble -free machining, a factor that is further supported through the introduction of light cutting geometries. For ISO M and ISO S materials, L30 and L50 geometries replace the company's existing assortment for good conditions/light applications and tougher conditions/heavy applications, respectively. For ISO P (steel) and ISO K (cast iron) materials, the M30 geometry now complements the existing assortment. M30 is designed for the purpose of delivering secure machining where weak setups and long overhangs are present.
Another factor underpinning process security is enhanced cutter rigidity. In applications where long overhang or elevated levels of vibration are likely to be present, CoroMill 331 can be deployed with Silent Tools™ damped adapters. Here, the shorter arbor cutter bodies of CoroMill 331 bring the cutting edge closer to the Silent Tools™ damping mechanism, thus, providing an even more stable tool with a reliable performance.
Extra process security and stability deliver higher component quality to manufacturers in industries such as energy, aerospace, and automotive. Typical parts to benefit include hour glass valve bodies, aerospace brackets, flap tracks, and steering knuckles, to list but a few. CoroMill 331 offers high levels of versatility that render it suitable not just for groove milling, but for parting, double half-side machining, shoulder milling, face milling, back-face milling, gang milling, and circular interpolation.
Better security in machining also promotes productivity. CoroMill 331 offers true 90° corners and excellent metal removal rates that make this cutter the most productive of its kind.
Ease of use is a further requirement of machine shops everywhere. For this reason, CoroMill 331 makes use of spring-loaded cassettes with serrations that provide security and easy setting for the desired width. Moreover, a pin-controlled adjustment range enables manufacturers to set the cutter with high accuracy for precise groove dimensions.
Available in a wide range of tools in an extensive choice of diameters, widths, insert geometries, corner radii, and grades, along with a large selection of mounting options.
For more information please visit www.sandvik.coromant.com/en-us/products/coromill_331
Sandvik Coromant
Part of global industrial engineering group Sandvik, Sandvik Coromant is at the forefront of manufacturing tools, machining solutions and knowledge that drive industry standards and innovations demanded by the metalworking industry now and into the next industrial era. Educational support, extensive R&D investment and strong customer partnerships ensure the development of machining technologies that change, lead and drive the future of manufacturing. Sandvik Coromant owns over 3100 patents worldwide, employs over 7,900 staff, and is represented in 150 countries.
For more information visit www.sandvik.coromant.com
Contact details for editorial inquiries
Contact: Angela Roxas , PR & Sponsorships – Sandvik Coromant
Phone: (201) 294-9160
Email: angela.roxas@sandvik.com
Related