Saint-Gobain Seals' Meldin® 7001 Polyimide Material Qualified as Electric Harness Component in Major Jet Engine Program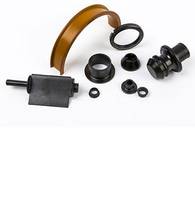 GARDEN GROVE, Calif. – Saint-Gobain Seals' Meldin® 7001 virgin polyimide product has been recently qualified as a precise fixing element on electric (wire) harnesses for a well-known jet engine program because it reduces global cost of installation by making it easier and faster and provides customers lifetime confidence.  Developed and produced at their Bristol, Rhode Island, site since the early 2000s, the Meldin® product is used for applications in a wide range of temperatures from -196°C to 316°C continuously and up to 482°C intermittently (from -321°F to 600°F and intermittently to 900°F); it is often specified for structural critical parts in aerospace and high-purity critical parts in electronics (semi-conductor field). 
Careful attention to electric systems on modern jet engines has been growing; one reason is due to the high quantity of electric wires present in jet engines, including those on pneumatically driven aircraft.  The electric wires become an issue for aerospace manufacturers who need them to be robust enough to resist the harsh conditions of the engine environment such as high temperature, presence of harsh chemicals and moisture, vibrations and sharp edges.  A second difficulty is fixing the wires properly to the engine structure. This is where an electric harness comes in handy since it binds the wires and fixing element together so they are secure. 
Not only is the electric harness important but the fixing element is also crucial.  The most important requirement for the fixing element is to be electrically insulative so it does not transfer electricity from the wire to the surrounding elements. It also needs structural strength but at the same time be gentle on the wires in order not to damage them.  Wires are becoming thinner to keep total weight as low as possible and in line with airframers' target of reducing fuel consumption, which make them more easily damaged.
A key advantage of using Meldin® 7001 material as the fixing element of an electric harness becomes evident in the installation process as it is much easier compared to traditional solutions such as heat-shrinkable materials. Meldin® 7001 material never needs to be pre-heated, is easier to fix and aligns with other elements on the outside of the engine as a result of the design flexibility that polymer materials contain. All these factors make installation not only easier but also much faster, reducing the global cost for engine manufacturers.
Another major advantage of this material is its production process. Even though Meldin® 7001 is a thermoset material and the economic advantage of injection molding process is not accessible, Saint-Gobain Seals' Bristol site has been able to develop a process called direct forming that compression molds the raw material in powder form directly into the finished parts with no or limited machining required to reach final shape and tolerances.  Because harness components are typically required in high volumes (since there are quite a large number per engine), this process manages to keep price at a reasonable level.
Additional important properties of Meldin® 7001 material for this precise fit application are:
• Hardness (40-55 Rockwell E)
• Water absorption is low for a polymer material (0.23% in 24 hours)
• Mechanical properties are retained at elevated temperature, over 50% of tensile strength at RT is retained at 260°C (500°F)
• Low dielectric strength; dielectric constant is 3.18 at 100 Hz
• Thermal conductivity is very low
• Thermal expansion is limited and closer to metals
• Surface finish (of the machined part) is very smooth; good for contact with wires
To learn more about Saint-Gobain Seals' OmniSeal®, Rulon® and Meldin® product lines or its strategic business unit, please visit www.seals.saint-gobain.com.
About Saint-Gobain Seals (www.seals.saint-gobain.com)
Saint-Gobain Seals is a strategic business unit under Saint-Gobain Performance Plastics' Engineered Components SOA (sector of activity); our parent company, Saint-Gobain, is one of the world's top 100 industrial groups as well as one of the oldest manufacturing companies in the world with 350 years of excellence.  With more than 50 years of manufacturing experience and an established global presence (with strategic sites in Garden Grove, California, and Bristol, Rhode Island, USA; Kontich, Belgium; Neuhaus and Wertheim, Germany; and Minhang, Shanghai, China), we offer a diverse range of critical parts for extreme applications that are designed to protect core systems.
Contact:
Rebecca Phan
Marketing Communications Specialist
Saint-Gobain Seals
sealsmarketing@saint-gobain.com
www.seals.saint-gobain.com
Related