RTD Input Modules connect to Modbus.
Press Release Summary: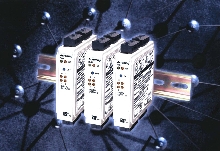 Dual/quad-channel BusWorks(TM) 930MB Series I/O captures data from up to 4 RTD temperature sensors or resistance input signals for communication over Modbus network. It has 4 built-in solid-state relays for independent local alarms or on/off switching functions. Setup is via Windows(R) configuration software for selection of input/output ranges, limit alarms, and other operating parameters. Microcontroller performs signal processing and runs self-diagnostic routines.
---
Original Press Release:
New Multi-Channel RTD Input Modules Speak Modbus for Low-Cost Remote Monitoring and Control Projects

Acromag added a dual/quad-channel RTD/resistance input module to their BusWorks(TM) line which provides a high-speed Modbus-RTU interface to distributed I/O devices and local alarm capability

Wixom, MI: Acromag's new BusWorks(TM) 930MB Series I/O Modules capture data from up to four RTD temperature sensors or resistance input signals for communication over a Modbus network. Additionally, four built-in solid-state relays can monitor high/low input limits for independent local alarms or perform on/off switching functions under instructions from a remote controller. Setup is fast and easy with Windows(R) configuration software for selection of input/output ranges, limit alarms, and other operating parameters. These modules are ideal for SCADA and other remote I/O applications where budgets are tight and mounting space is limited. Prices start at just $295 for dual channel units, or only $100 per channel for quad models, and you get the equivalent of four signal conditioner / alarms in a single box with a tiny 1 x 4.75" footprint for high-density panel mounting.

To ensure unsurpassed performance, 930MB I/O modules employ the latest digital technology. A powerful microcontroller performs advanced signal processing functions and runs self-diagnostic routines for better reliability. For fast communication, high-speed RS-485 transceivers support data transfer rates up to 115K baud. And for higher accuracy with less noise, RTD signals are sampled using 16-bit sigma-delta A/D converters.

Many other features add convenience and enhance safety. Internal non-volatile memory stores configuration settings for easy printing, archival to disk, or duplication on other modules. Optical isolation separates input, output, power, and network circuits to increase noise/transient immunity and prevent ground loops. Status LED's provide diagnostic feedback and visually indicate which channels are outside their calibrated range.

Sophisticated watchdog timer functions allow the application to define the module's failsafe output state. The watchdog timer invokes the failsafe condition when communication between the host and module exceed a duration specified by the application. For further security, a second hardware watchdog timer monitors the microcontroller for failed operations or a "lock-up" condition and automatically resets the unit.

Series 900 I/O modules are compatible with popular Human-Machine Interface (HMI) software packages that support Modbus communication. The I/O modules may be configured using generic drivers provided with the HMI software to access the Modbus register maps.

A full compliment of accessories to complete the system include both isolated and non-isolated RS-232-to RS-485 signal converters for PC-to-network communication. Network repeaters extend the communication distance another 4000 feet and allow connection of an additional 32 network devices. Power supplies, mounting hardware, and surge suppressors are also available.

Acromag, a multimillion dollar international corporation, has been manufacturing and developing measurement and control products for more than 40 years. They offer a complete line of industrial I/O products including process instruments, signal conditioning equipment, data acquisition boards, distributed I/O systems, and communication devices.

For more information about Acromag products, call the Inside Sales Department or Marketing Communications at (248) 624-1541, (800) 881-0268, FAX (248) 624-9234, or write Acromag, Inc. at P.O. Box 437, Wixom, MI 48393-7037 USA. Information is also available on the Acromag web site at www.acromag.com.
More from Controls & Controllers