RF Mixers and Modulators enable high-density radio cards.
Press Release Summary: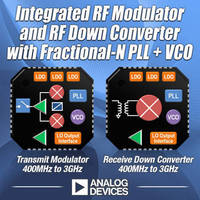 Designed for LTE and 4G cellular base stations, ADRF660x Mixers and ADRF670x Modulators each combine multiple discrete functional blocks into single device. ADRF670x models integrate analog I/Q modulator with input bandwidth of 500 MHz, RF output switch, and PLL with VCO in one RFIC, while ADRF660x models integrate high-linearity active RF mixer, RF input balun for single-ended 50 W input, and PLL synthesizer with integrated VCO. All share common SPI control interface.
---
Original Press Release:

Analog Devices Delivers Breakthrough Radio Frequency Circuits For 4G Cellular Base Stations



- New highly integrated RF mixers and modulators enable high-density radio cards, increase capacity and speed for LTE and 4G base stations.

Norwood, MA (09/21/2009) - Analog Devices, Inc. (NYSE: ADI), a global leader in high-performance semiconductors for signal-processing applications and RF integrated circuits, today introduced a series of highly integrated RFICs (radio frequency integrated circuits) designed for LTE (long term evolution) and 4th generation (4G) cellular base stations. LTE is a set of enhancements to the UMTS (universal mobile telecommunications system) standard and is considered to be the last step toward the 4th generation of radio technologies in cellular networks. As worldwide mobile carriers evolve toward 4G technologies, small higher-density radio card form factors are needed to support the delivery of continuous voice and high-data-rate services. ADI's new ADRF660x series of mixers and ADRF670x series of modulators enable these high-density radio cards by combining multiple discrete functional blocks into a single device, while meeting the demanding performance required by higher-capacity base stations. With this breakthrough level of integration, base station manufacturers can realize an unprecedented 60 percent reduction in board space and a significant savings on bill of materials costs.

"Today's 3G and LTE base stations use many standard discrete RF components to optimize performance across both the transmit and receive RF signal paths. ADI's new ADRF660x and ADRF670x products combine the radio frequency conversion functional blocks into one integrated circuit, without any sacrifice in performance," said Peter Real, vice president, Linear and RF products, Analog Devices. "These new devices are based on ADI's PLL/VCO synthesizer, mixer and modulator technologies, which offer the industry's leading phase noise performance, power consumption and linearity for smaller form factor and higher density macro, micro, and picocell base stations."

About the ADRF660x and ADRF670x Series

The new ADRF660x and ADRF670x series each debut with four pin-compatible devices that cover the commonly used cellular 2G, 3G and LTE frequency bands and ease system design through integration allowing for a common footprint PCB (printed circuit board) design for all cellular frequency bands and air interface standards.

The four ADRF670x products integrate a high dynamic range analog I/Q modulator, RF output switch and PLL (phase locked loop) with integrated VCO (voltage controlled oscillator) in one compact RFIC . The modulator input bandwidth of 500 MHz is capable of supporting either a specified band or complex IF up-conversion transmit signal paths. In addition, the modulator output supports a linear high output power level for wideband multi-carrier LTE applications.

The four ADRF660x products integrate a high-linearity active RF mixer; RF input balun for single- ended 50 W input; and a PLL synthesizer with integrated VCO in one compact RF circuit. The active mixer provides a voltage conversion gain of 6 dB, alleviating the need for additional IF amplification over competing passive mixers. The differential IF output is capable of supporting highest IF frequencies up to 500 MHz. The ADRF660x series can be used for receiver path down-conversion and transmit path observation receiver applications.

All eight devices share a common SPI control interface and are software compatible. The integrated PLL is a multi-modulus Fractional-N synthesizer designed to support LTE's 100 KHz channel raster and offers the industry's lowest in-band phase noise. For added flexibility all devices provide a buffered local oscillator (LO) output and allow the use of an external VCO. More information and complete data sheets are available at www.analog.com.

Pricing, Availability and Complementary Products

The ADRF660x integrated mixers are sampling now and are priced at $8.98 per unit in 10,000- unit quantities. The ADRF670x integrated modulators are also sampling now and are priced at $9.98 per unit in 10,000-unit quantities. The following table denotes frequency bands for all ADRF660x and ADRF670x products:


Product   Internal LO Range   ±3 dB RF Out Balun Range  ±1dB RF Out Balun Range 

ADRF6601    750 - 1160 MHz      300 - 2500 MHz       450 - 1600 MHz 

ADRF6602   1550 - 2150 MHz     1000 - 3100 MHz      1350 - 2750 MHz 

ADRF6603   2100 - 2600 MHz     1100 - 3200 MHz      1450 - 2850 MHz 

ADRF6604   2500 - 2900 MHz     1200 - 3600 MHz      1600 - 3200 MHz 

ADRF6701    790 - 1160 MHz      400 - 1300 MHz       550 - 1000 MHz 

ADRF6702   1550 - 2150 MHz     1200 - 2400 MHz      1550 - 2200 MHz 

ADRF6703   2100 - 2600 MHz     1600 - 2600 MHz      1900 - 2400 MHz 

ADRF6704   2500 - 2900 MHz     2200 - 3000 MHz      2400 - 2800 MHz


The ADRF660x and ADRF670x products are well suited for use with ADI's leading mixed-signal converters, amplifiers and clocks. The following complementary components for the ADRF660x and ADRF670x products are available to implement a complete radio transceiver: AD9230 analog-to-digital converters; AD9122 TxDAC® digital-to-analog converter; ADL532x transmit drivers and ADL552x LNA amplifiers; and AD9520-x family of clock ICs.

ADI's RF IC Portfolio Covers Entire RF Signal Chain

Using a unique combination of design skills, system understanding and process technologies, Analog Devices offers the broadest portfolio of RF ICs covering the entire RF signal chain from industry-leading high-performance RF function blocks to highly integrated WiMAX and short-range, single-chip transceiver solutions. The RF function blocks include DDS and PLL synthesizers; TruPwr(TM) rms power detectors and logarithmic amplifiers; X-Amp® VGAs; power amplifiers, LNAs and other RF amplifiers, mixers and direct conversion modulator and demodulator products. These products are supported by a wide range of free design tools to ease the development of RF systems. For more information, visit: www.analog.com/rf.

About Analog Devices

Innovation, performance, and excellence are the cultural pillars on which Analog Devices has built one of the longest standing, highest growth companies within the technology sector. Acknowledged industry-wide as the world leader in data conversion and signal conditioning technology, Analog Devices serves over 60,000 customers, representing virtually all types of electronic equipment. Celebrating over 40 years as a leading global manufacturer of high-performance integrated circuits used in analog and digital signal processing applications, Analog Devices is headquartered in Norwood, Massachusetts, with design and manufacturing facilities throughout the world. Analog Devices' common stock is listed on the New York Stock Exchange under the ticker "ADI" and is included in the S&P 500 Index.

Follow ADI on Twitter at http://www.twitter.com/ADI_News.

Related