Renesas Presents RZ/A2M Microprocessor with Large Capacity On-Chip RAM
Press Release Summary: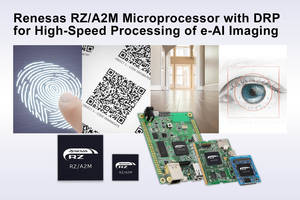 The RZ/A2M Microprocessor is suitable for applications that use human-machine interface functionality and cameras. The unit supports MIPI® camera interface for use with mobile devices and is equipped with DRP for high-speed image processing. The MPU now comes with enhanced secure network functionality with an on-chip hardware encryption accelerator and a two-channel Ethernet support. It offers real-time image processing at low power consumption.
---
Original Press Release:
Renesas Electronics Unveils RZ/A2M Microprocessor for High-Speed Processing of e-AI Imaging in Smart Appliances, Service Robots, and Industrial Machinery
Renesas' Exclusive DRP Technology Realizes Excellent Real-Time Image Processing at Low Power Consumption
TOKYO, Japan, October 4, 2018― Renesas Electronics Corporation ("Renesas", TSE: 6723), a premier supplier of advanced semiconductor solutions, is expanding its range of embedded artificial intelligence (e-AI) solutions for incorporating AI into embedded systems by bringing intelligence to endpoints. Approximately 150 companies in more than 10 countries worldwide are already conducting trials based on this technology, and there are more than 30 actual e-AI use cases underway. Renesas has now developed a new RZ/A2M microprocessor (MPU) to expand the use of e-AI solutions to high-end applications. The new MPU delivers 10 times the image processing performance (Note 1) of its predecessor, the RZ/A1, and incorporates Renesas' exclusive Dynamically Reconfigurable Processor ("DRP", Note 2), which achieves real-time image processing at low power consumption. This allows applications incorporating embedded devices--such as smart appliances, service robots, and compact industrial machinery--to carry out image recognition employing cameras and other AI functions while maintaining low power consumption, and accelerating the realization of intelligent endpoints.
Currently, there are several challenges to using AI in the operational technology (OT) field, such as difficulty transferring large amounts of sensor data to the cloud for processing, and delays waiting for AI judgments to be transferred back from the cloud. Renesas already offers AI unit solutions that can detect previously invisible faults in real time by minutely analyzing oscillation waveforms from motors or machines. To accelerate the adoption of AI in the OT field, Renesas has developed the RZ/A2M with DRP, which makes possible image-based AI functionality requiring larger volumes of data and more powerful processing performance than achievable with waveform measurement and analysis. Since real-time image processing can be accomplished while consuming very little power, battery-powered devices can perform tasks such as real-time image recognition based on camera input, biometric authentication using fingerprints or iris scans, and high-speed scanning by handheld scanners. This solves several issues associated with cloud-based approaches, such as the difficulty of achieving real-time performance, assuring privacy, and maintaining security.
"The adoption of e-AI will bring incalculable advances in convenience, safety, and production efficiency," said Yoshikazu Yokota, Executive Vice President and General Manager, Industrial Solution Business Unit at Renesas. "We have successfully improved production yields at our own factories through the use of e-AI, proving the usefulness of AI for endpoints. We will continue expanding the scope of e-AI applications from simple attributes such as colors, shapes, and waveforms to complex image processing in real time. Renesas will also offer e-AI solutions that anyone can use, and lead the way in bringing intelligence to endpoints."
Main Features of the New RZ/A2M with DRP
The RZ/A2M with DRP is a new addition to the RZ/A Series lineup of MPUs equipped with large capacity on-chip RAM, which eliminates the need for external DRAM. The RZ/A Series MPUs address applications employing human-machine interface (HMI) functionality, and the RZ/A2M adds to this capability with features ideal for applications using cameras. It supports the MIPI® camera interface, widely used in mobile devices, and is equipped with a DRP for high-speed image processing. Renesas has also boosted network functionality with the addition of two-channel Ethernet support, and enhanced secure functionality with an on-chip hardware encryption accelerator. These features enable safe and secure network connectivity, making the new RZ/A2M best suited for a wide range of systems employing image recognition, from home appliances to industrial machinery.
The main specifications of the new product can be viewed here.
Renesas intends to continue advancing its range of e-AI solutions based on DRP technology. In the second half of 2019, Renesas will release an AI accelerator incorporating a DRP with AI processing performance 100 times faster than software processing, and the ability to perform real-time inference execution through embedded AI. In 2021, Renesas will release a next-generation AI accelerator 1,000 times as powerful as a conventional MPU. These Renesas AI innovations will add value to embedded devices and usher in the possibility of endpoints capable not only of inference execution but of learning as well.
Availability
Samples of the RZ/A2M with DRP are available now. The RZ/A2M MPUs are offered with a development board, reference software, and DRP image-processing library, allowing customers to begin evaluating HMI function and image processing performance. Mass production is scheduled to start in the first quarter of 2019, and monthly production volume for all RZ/A2M versions is anticipated to reach a combined 400,000 units by 2021.
Learn more about Renesas' e-AI solutions
Check out the new e-AI webpage: https://www.renesas.com/en/solutions/key-technology/e-ai.html.
Watch the brand new e-AI concept video: https://www.renesas.com/en/support/videos/e-ai-overview-video.html.
Notes
1. For example, when running the "canny edge detection" algorithm for detecting edges in images, the RZ/A2M requires 142 milliseconds (ms) per frame using software processing by the CPU, but only 10 ms per frame using hardware processing by the on-chip DRP. This represents a more than tenfold improvement in image processing performance.
2. The DRP is a hardware intellectual property (IP) module capable of dynamically changing the configuration of its processing circuit from one clock cycle to the next. DRPs have been in mass production use for more than a decade in applications such as broadcasting equipment and digital cameras. This exclusive Renesas technology combines the performance of hardware with the flexibility of software, adding value to a wide range of products. Moving forward, Renesas plans to extend the use of DRP to embedded AI, delivering excellent power performance and unmatched flexibility tracking the ongoing advances in neural networks.
About Renesas Electronics Corporation
Renesas Electronics Corporation (TSE: 6723) delivers trusted embedded design innovation with complete semiconductor solutions that enable billions of connected, intelligent devices to enhance the way people work and live—securely and safely. A global leader in microcontrollers, analog, power, SoC products and integrated platforms, Renesas provides the expertise, quality, and comprehensive solutions for a broad range of Automotive, Industrial, Home Electronics, Office Automation and Information Communication Technology applications to help shape a limitless future. Learn more at renesas.com.
More from Agricultural & Farming Products