Remote Control Transmitter allows programs to operate devices.
Press Release Summary: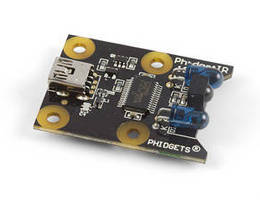 PhidgetIR uses IR signals to integrate and control various type of devices that accept remote control input, such as TVs and DVD players. Included APIs allow applications to learn signals from arbitrary remote controls, and learned code can be retransmitted and will function just as if button on actual remote was being pushed. Transmitter carrier frequency is from 10 kHz to 1 MHz, with maximum pulse/space time of 300 msec, and unit operates on USB voltage from 4.5-5.5 V.
---
Original Press Release:

Control Devices with Remote Control Input with Your Computer Using the 1055 - PhidgetIR



Connects directly to your computer's USB port.

CALGARY, Alberta - Phidgets Inc. released today the PhidgetIR. You can use the PhidgetIR to control devices with remote control input - such as your TV or DVD player, from your computer by having the PhidgetIR transmit remote control codes. Thanks to our powerful API's your application can learn the signals from arbitrary remote controls. The learned code can be retransmitted and will function just as if you were pushing the same button on the actual remote. You can also control your computer or Phidgets by recognizing a signal from any remote and using it as an event in your application to trigger some action.

"This is a great product. It opens up a world of interesting possibilities by using IR signals to integrate and control various type of devices that accept remote control input." says Chester Fitchett, CEO of Phidgets.

Product Specifications

Transmitter Carrier: 10kHz - 1MHz

Update Rate: 8ms

Maximum pulse/space time: 300ms

Maximum Bit Rate: 2000bit/second

Maximum Code Length: 128bits

Minimum gap length: 20ms

Maximum gap length: 100ms

Timing Resolution: 10µs

Maximum Error: 30%

Minimum/Maximum USB Voltage: 4.5V to 5.5V

Device Current (Max): 50mA

Receiver

Peak Infrared Wavelength: 950nm

Carrier Frequency: 38kHz

Directivity (50% reduction in distance): ±45 degrees

Transmission Distance: 20 meters

36/40kHz Reception loss of sensitivity: 40%

Transmitter LED

Infrared Wavelength: 950nm

Directivity (Half Intensity): ±25 degrees

Software Environment

"Unlike a lot of our competitor's products that require their users to write some firmware code in order to use their sensor, we are completely "Plug and Play" says Bernard Rousseau, Director of Marketing. "With Phidgets, you plug it in and start using it and when it comes to programming, the user, not us, decides which operating system and which computer language he wants to use", added Rousseau.

Users can program Phidgets using a simple yet powerful and well documented Application Programming Interfade (API) that is supported under Windows (2000, XP, Vista), Windows CE, Mac OS X, and Linux. Users can write programs in Visual Basic, VB.NET, C#, C/C++, Flash/Flex, Java, Labview, Matlab, ActionScript 3.0, and Cocoa.

Phidgets also provides programming examples for all its products to help programmers write their own programs. The API Libraries as well as the examples and the documentation are available at no charge on Phidgets.com.

Pricing and Availability

The 1055 - PhidgetIR is available now. The suggested resale price is $50.00 Canadian.

About Phidgets

Phidgets, Inc. is a technology leader in the design and manufacture of low-cost control and sensing modules connected to personal computers through the USB port. Phidgets products are ideally suited for fast prototyping. The privately held company is based in Calgary, Alberta, Canada.

Web Site: Phidgets.com

Phone: 1-403-282-7335

Fax: 1-403-282-7332

E-mail: bernard@phidgets.com

Sales Inquiries: sales@phidgets.com

More from Materials