Purging Recovery System transforms purgings into regrind.
Press Release Summary: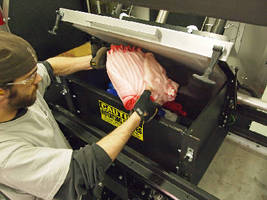 Producing uniform granulate with minimized dusting, Purging Recovery System™ (PRS) optimizes efficiency of granulating polystyrene, flexible vinyl, and other polymers that might otherwise degrade under shear forces of size reduction, causing backup or clumping. In PRS, rotor planer uses 12 knives to slice or plane rock-like purging into small chips. Then, second-stage granulator with 0.250 in. holes in screen reduces chips to regrind. Air generated by blower cools material, preventing melting.
---
Original Press Release:

Enhanced System for Reclaiming Purgings Produces Better-Quality Regrind at Higher Throughput and with Less Dust



Improved Operation of Maguire® Purging Recovery System™ (PRS™) Also Facilitates Granulation of Traditionally 'Difficult' Materials like Polystyrene and Flexible Vinyl



ASTON, PENNSYLVANIA, U.S.A. -- Maguire Products, Inc. has streamlined the operation of its unique system for transforming purgings into regrind, making possible an increase in throughput of 20% and production of finer and more uniform granulate with less dusting, the company announced today.



The enhancements to the Maguire® Purging Recovery System™ (PRS™) have also increased the efficiency of granulating polystyrene, flexible vinyl, and other polymers that might otherwise melt or degrade under the shear forces of size reduction, causing backup or clumping that shuts the system down.



In the PRS, material undergoes two stages of size reduction: First, a rotor planer slices or planes the rock-like purging into small chips. Second, a granulator reduces the chips to regrind. Maguire has made the following improvements to the system:



1)  The knives in the rotor planer are now 40% smaller, while their number has increased from eight to twelve. As a result, the planer produces smaller chips that are more easily and uniformly size-reduced by the second-stage granulator. The more efficient cutting also yields less dust.



2)  The cutting chamber of the second-stage granulator has been redesigned to increase the flow of air generated by a blower. The material in the granulator thus is cooled more effectively, preventing melting, and it is evacuated from the cutting chamber more rapidly.



These enhancements make possible finer granulate, with minimum hole sizes in the screen of the second-stage granulator reduced from 0.375 in. (9.52 mm) to 0.250 in. (6.35 mm). In a further improvement, Maguire has replaced the previous one-piece screen with a three-piece screen that is easier and less expensive to replace.



Low-Cost PRS™ Equipment Yields Big Annual Savings in Material Cost



A purging consists of the transitional material that passes through an extruder as the operator shifts from one job or color to another. Typically it is discharged onto the shop floor, hardens, is scraped up, and is disposed of, ultimately ending up in a landfill. Over time, this adds up to a waste of material valued at thousands of dollars per year.



"Our PRS system is the only low-cost equipment designed specifically for the rugged work of size-reducing heavy masses of plastic," said B. Patrick (Pat) Smith, vice president of marketing and sales. "Since a ten-pound [4.5-kg] lump of hard plastic could damage the rotor of a conventional granulator, the only other alternative for reclaiming purgings is to purchase a heavy-duty granulator for USD $100,000 to $200.000."



The Purging Recovery System draws on the simple concept of the carpenter's plane. It consists of a table that is split into two levels and a purging containment chamber that, upon startup of the system, moves back and forth over the table. The planer, mounted at the point of disjunction between the two surface levels, is actually a rotor with staggered knives that turns at 1750 r.p.m. With each pass of the containment chamber, the rotor planes away thin (0.5-in. or 13-mm) slices from the bottom of the purging and propels these chips into the hopper of a compact granulator beneath the table. As material is planed away from the purging, a pneumatically-driven hold-down plate in the containment chamber keeps the purging in contact with the knives.



Maguire has received the CE certification required to make the PRS available in Europe.



A streaming video demonstrating the features of the system and its mode of operation is available by visiting www.maguire.com and clicking on "Videos."



MAGUIRE PRODUCTS, INC., headquartered in Aston, Pennsylvania, U.S.A., is the world's largest supplier of gravimetric blenders, liquid color pumps, and vacuum dryers and also manufactures loading systems, auger feeders, granulators and related equipment and software. Its customers include injection, blow, and rotational molders, extrusion processors, and compounders. Founded in 1977, Maguire operates six manufacturing facilities in Aston. The company maintains a network of distributors in the Americas and overseas and has three sales and service subsidiaries that stock, sell, and service auxiliary equipment systems from Maguire and its affiliate, Novatec, Inc.: Maguire Canada, Maguire Europe, and Maguire Asia. Visit www.maguire.com

More from Architectural & Civil Engineering Products