pseudomorphic High Electron Mobility Transistor used in 24GHz sensors.
Press Release Summary: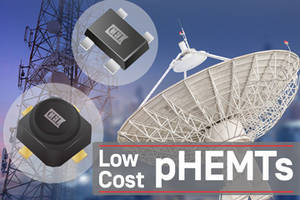 Used in Ku and Ka Band Satellite Receiver applications, pHEMTs offer reduced noise and higher gain. Available in CE3512K2, CE3514M4, CE3520K3 and CE3521M4 microwave components, pHEMTs are suitable for applications in Low Noise Block in DBS and downconverters in VSAT systems.
---
Original Press Release:
CEL Introduces High Performance, Low Noise Microwave Components for Satellite Receivers and RF Communications
Industry's top performing pHEMTs (low noise and high gain) for Ku and Ka Band applications
CEL is introducing low cost pHEMTs (pseudomorphic High Electron Mobility Transistor) targeted for Ku and Ka Band Satellite Receiver applications. These CEL pHEMTs are drop-in replacements to the Renesas pHEMTs, also offered by CEL.
Typical applications are LNBs (Low Noise Block) in Digital Broadcast Systems (DBS), downconverters in VSAT systems and 24GHz sensors. These new low noise pHEMTs are also excellent for a variety of other microwave and RF applications.
In addition to reduced noise and higher gain, CEL provides these pHEMTs at lower prices than their equivalent Renesas RF pHEMTs. CEL is manufacturing these pHEMTs in Japan with similar high quality as the Renesas pHEMTs.
"Our new Microwave pHEMTs provide microwave system manufacturers with a cost-effective selection of high performance transistors," says Marc Sheade, Vice President and General Manager, Components Business. "Whether designing for new devices or as a drop-in replacement for updating existing designs, we are providing highly reliable microwave components at extremely competitive prices.
These new microwave components include:
CE3512K2: Low Noise 1st stage Ku Band pHEMT
CE3514M4: Lowest Cost 2nd/3rd stage Ku Band pHEMT
CE3520K3: Low Noise 1st stage Ka Band pHEMT
CE3521M4: Lowest Cost 2nd/3rd stage Ka Band pHEMT
Data sheets for these pHEMTs are available on http://www.cel.com/
About CEL
CEL offers a broad selection of wireless and networking components including RF/microwave transistors and ICs, optical-coupler ICs, laser diodes, photo diodes and high-speed interface ICs. CEL also designs and produces Cortet™ and MeshConnect® wireless solutions and platforms for IoT applications.
CEL is the exclusive gateway into the Americas for RF and Optical Semiconductors from Renesas Electronics (formerly NEC Electronics). We also build on our more than fifty years of wireless excellence to offer our own wireless components and solutions in addition to those from Renesas. Our team of highly skilled Applications Engineers supports diverse designs using components from all product lines.
CEL has technical centers in Santa Clara, California (Silicon Valley), Buffalo Grove, Illinois (Chicago area) and Lafayette, Colorado (Boulder/Denver area). CEL supports customers through direct sales offices, sales representatives and distributors worldwide, with offices in Hong Kong and Tokyo that support the Asia Pacific region.
For more information, visit cel.com
Related