Pressure Calibrator records parameters at 10 times/sec.
Press Release Summary: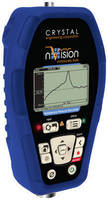 Providing accurate data under field conditions, reference-grade nVision can be configured to measure and record 200,000 pressure, temperature, current, and voltage measurements. Unit can display recorded data graphically, or graph measurements as they are being recorded. Pressure measurement accuracy is up to 0.025% of reading throughout operating temperature range of -20 to 50°C. Featuring intrinsically safe design, nVision is shock- and vibration-resistant as well as waterproof to IP67.
---
Original Press Release:

Crystal Engineering Releases nVision, a Reference Pressure Recorder



A modular, reference grade field pressure calibrator with graphical display that can be configured to measure and record current, voltage and temperature.

San Luis Obispo, CA - Crystal Engineering Corporation, a leading pressure instrumentation company, has released nVision, a new type of field pressure calibrator that can be configured to measure and record 200,000 pressure, temperature, current and voltage measurements. It can display the recorded data graphically, or graph the measurements as they are being recorded on its high resolution screen.

"With nVision, there is no need to stop a test to download data for analysis on a PC, which is the case with current field calibrators on the market. Stored data, or data being recorded, can be displayed graphically where you can easily zoom into and magnify specific events, or zoom out to get a big picture of your test. There's never been anything like this!" says Tom Halaczkiewicz, President of Crystal Engineering.

The intrinsically safe nVision provides accurate data under field conditions. Pressure measurement accuracy is up to 0.025% of reading, throughout the entire operating temperature range of -20 to 50°C. "Like all Crystal products, the nVision has been designed for field use - and we prove it with a pressure calibration report at 5 temperatures starting at -20 and finishing at 50°C. We're the only company that is ISO17025 accredited to do this, and we include this calibration report with every calibrator at no extra charge!" says Tom.

Leak testing and static pipeline can be significantly accelerated due to the ability to resolve smaller changes in pressure than is possible with chart recorders. At the same time it's possible to overlay pressure with temperature on the same graph, making it easy to visually evaluate trends.

The nVision is also capable of recording any parameter at a rate of 10 times per second, making it suitable for high speed measurements. An example is PSV (Pressure Safety Valve) testing. The graphical display makes it easy to view valve characteristics such as response time and repeatability, and the recorded data can become part of a permanent test record.

"Ease of use is often claimed though rarely achieved. Usability is the hallmark for all Crystal products, and the nVision is no exception, even though it is a very sophisticated device. We include CrystalControl software to easily configure the nVision to specific tasks, and perhaps most importantly, remove features that are un-needed and a potential distraction for the task at hand. This minimizes and perhaps eliminates the need for extensive training - just to use the calibrator," says Tom.

The nVision is shock and vibration resistant, includes threaded mounting points, and it's even certified waterproof to IP67 (submersion in water to 1m for up to 30 minutes).

Another technical introduction on the nVision is the Crystal Pressure Fittings (CPF) system, a new (patent pending) fitting and hose system that eliminates the hassle of pipe thread sealant and leaks - and even tools - because it permits finger tight connections that are leak free up to 10,000 PSI. Yet it's fully compatible with fittings from companies such as HIP and Autoclave, to name a few (but those fittings will require a wrench). The CPF fittings have a basic 4:1 safety factor, and they are designed and engineering in the USA. CRN certification is pending.

For over 25 years, Crystal Engineering has been producing innovative, portable pressure measuring equipment and software that are accurate, reliable and easy to use. Our products are intrinsically safe, CSA, ATEX / IECEx Scheme registered and DNV certified. Crystal produces are used worldwide in a variety of industries such as refineries, power plants (including nuclear), offshore platforms, oil and natural gas production and distribution, aerospace, manufacturing, aircraft maintenance and more. You can find Crystal products on NASA space shuttle flights and the International Space Station. For more information about Crystal Engineering, visit www.crystalengineering.net.

More from Architectural & Civil Engineering Products