Power Entry Module exceeds power limits.
Press Release Summary: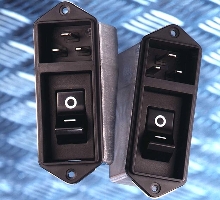 EF Series includes AC inlet and circuit breaker, UL rated up to 20 A at 250 V. Circuit breaker provides manual reset of circuit and status indication depending on switch position (I/O). It is recessed in flange to protect against inadvertent actuation. Filter options meet standard and medical grade attenuation requirements at 12, 16, and 20 A. Direct electrical contact of filter to chassis provides low RF impedance ground path.
---
Original Press Release:
Power Entry Module Exceeds Power Limits

Series Combining AC Inlet, RFI Filter and Circuit Breaker for Equipment Rated 20 Amps

The new EF series from Schurter expands their high power range of power entry modules to include an AC inlet and circuit breaker, UL rated up to 20 amps at 250 volts. The power inlet is according to IEC/EN60320-1/C20 and the circuit breaker is according to IEC/EN 60934 and UL 1077 (for equipment). The new combination offers advanced functionality and higher power ratings over conventional AC power entry modules, which are typically limited to 15 amps at 250 volts.

The circuit breaker provides manual reset of the circuit and status indication depending on the switch position (I/O). It is recessed in the flange to protect against inadvertent actuation. Options include 1- or 2-pole thermal overload protection, or no bi-metal for 2-pole on/off switching only (max 16 Amps). An under-voltage release can detect power loss and protect against unwanted restart. A remote trip function is also available. The switch has a variety of color, illumination, and legend options.

Filter options meet standard and medical grade (<5microAmps leakage) attenuation requirements at 12, 16, and 20 amps. The compact size of the C20F saves space over separate parts and allows for better RF situating. Space is freed up for alternate placement of noise-generating subsystems and wires. The metal filter casing wraps behind the mounting flange and is secured with screws. The direct electrical contact of the filter to the chassis provides a good, low RF impedance ground path. Convenient .250" solder/quick connect terminals are provided for easy wiring to load.

Power entry modules are designed to save panel space, reduce EMI, cut parts count, and streamline wiring. The EF11/EF12 is pending UL and CSA approvals up to 20 Amps at 125 and 250 Volts, and VDE up to 16 Amps at 250 Volts. Detachable, rewire-type plug mates, as well as molded cordsets with Nema 6-20P or 5-15P plug ends, are available. A medical-grade cordset is also available. Retaining clamp accessory prevents accidental removal of the plug. Applications include higher power-consuming equipment, like CAD systems, office automation equipment, industrial workstations, base stations, file servers, bar coding equipment, and power supplies.

Pricing starts at just under $10.00 for 500 piece quantities. Delivery is 6-8 weeks.

Contact: Lorene Manjares

Phone 1-800-848-2600 Fax 707-636-3033

E-mail: info@schurterinc.com Website: www.schurter.com