Portable SAS/SATA Protocol Verifiers operate at up to 6.0 Gbps.
Press Release Summary: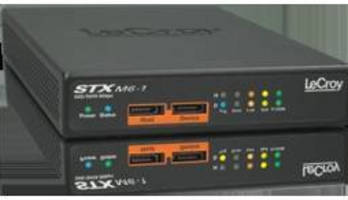 Available in protocol analyzer or error injector models, STX M6-1 protocol testers operate at 1.5, 3.0, or 6.0 Gbps SAS or SATA data rates and are available with 2 or 4 GB of memory. Featuring USB and GbE interface ports for connecting to host PC, single-port units measure 6.25 x 9.0 x 1.38 in. and fit in brief case or backpack. They can be linked together to maximize recording channel capacity, or be used in tandem to combine simultaneous error injection and trace capture/analysis.
---
Original Press Release:

LeCroy Introduces STX M6-1 6Gb/s SAS/SATA Protocol Analyzer and InFusion Models



LeCroy Expands SAS/SATA Protocol Test Product Line with New Ultra-Portable Systems

SANTA CLARA, Calif. - LeCroy Corporation, a worldwide leader for serial data test solutions, today announced it has expanded its industry-leading line of 6 Gb/s capable SAS and SATA protocol verification products. The company introduced the STX M6-1, an ultra-portable single port platform available in either a protocol analyzer or error injector models.

Measuring just 6.25" wide, 1.38" high, 9.0" deep (15.9 x 3.5 x 22.9 mm) and weighing in at 1.7 lbs (.77 Kg), the STX M6-1 systems are incredibly compact units that fit easily into a corner of a brief case or backpack. Operating at 1.5, 3.0, or 6.0 Gb/s SAS or SATA data rates, and available with 2 or 4 GB of recording memory, STX M6-1 offers world-class protocol analysis or error injection capability at price points within reach of every budget.

STX M6-1 systems come standard with both USB and GbE interface ports for maximum flexibility in connecting to the host PC. The versatile GbE port can be used for either local or remote network connectivity. STX M6-1 systems can be linked together in cascade configurations to provide additional recording channel capacity, or used in tandem to combine simultaneous error injection and trace capture/analysis capabilities (requires multiple STX M6-1 units, at least one licensed as a protocol analyzer and at least one as an error injector).

STX M6-1 models are software compatible with the LeCroy SAS/SATA Protocol Suite and offer the same features as the other products in the LeCroy SAS/SATA product line. The analyzer software offers an intuitive GUI (Graphical User Interface) combining easy setup with flexible traffic analysis views including spreadsheet, text, column, waveform and packet views. The protocol application layer can be analyzed with the packet view, which logically assembles frames and primitives that are part of specific SAS or SATA commands. Utilizing the packet view, one can quickly see the completion status of any command, which is especially useful in addressing system-level debug challenges. Statistical reports provide event and error counts, as well as performance metrics, that give users a snapshot into captured traces and rapid access to items of interest.

The STX M6-1 data capture capabilities include Easy Mode triggering to provide engineers with the ability to capture precise traffic conditions such as timing between events or changes in link state. Using Easy Mode, powerful trigger conditions can be set up quickly and easily through very straightforward, easily understood drop-down menu selections.

The STX M6-1 InFusion model performs as a stand-alone 1.5, 3, 6 Gb/s version of the LeCroy InFusion Error Injector and Traffic Modifier, enabling engineers to verify error recovery characteristics of their designs. An easy-to-use pop-up menu interface allows the creation of customized test scenarios in just minutes. One can program on-the-fly modifications to any field within any frame, as the data moves across the link. Any primitive or data pattern can be intercepted and changed to a different user specified pattern. Examples include support for changing DWORD values, disconnecting links, and forcing various conditions such as a CRC error or running disparity errors. This enables unprecedented corner case modification of SAS and SATA traffic which is especially useful during the final test and integration cycles.

STX M6-1 products will begin shipping this calendar quarter (CQ3-2010). Engineers and technicians who would like to know more can contact LeCroy at 1-800-5LeCroy (1-800-553-2769) or visit www.lecroy.com/pr/STXM6-1/.

About LeCroy

LeCroy Corporation is a worldwide leader in serial data test solutions, creating advanced instruments that drive product innovation by quickly measuring, analyzing, and verifying complex electronic signals. The Company offers high-performance oscilloscopes, serial data analyzers, and global communications protocol test solutions used by design engineers in the computer and semiconductor, data storage device, automotive and industrial, and military and aerospace markets. LeCroy's 45-year heritage of technical innovation is the foundation for its recognized leadership in "WaveShape Analysis"--capturing, viewing, and measuring the high-speed signals that drive today's information and communications technologies. LeCroy is headquartered in Chestnut Ridge, New York. Company information is available at www.lecroy.com/.

© 2010 by LeCroy Corporation. All rights reserved. Specifications are subject to change without notice.

Website: www.lecroy.com

Source: LeCroy Corporation

CONTACT: Media: Peter Fletcher, of TechniPubs, +1-408-373-5601; or Editors' Technical contact: Sam Sawyer, Product Marketing Manager,
+1-408-727-6600, or Customer contact: LeCroy Customer Care Center,
+1-800-553-2769

Web Site: www.lecroy.com/

More from Materials