Non-Drip Epoxy can be used in indirect food applications.
Press Release Summary: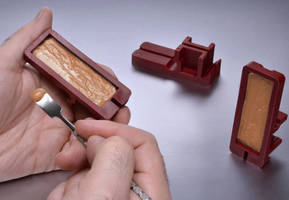 With thick paste consistency, Master Bond® EP21NDFG bonds to diverse substrates – metals, composites, glass, ceramics, rubbers, plastics – and will not run or sag even when applied to vertical surfaces. Bonds resist thermal cycling as well as chemicals, including water, oils, fuels, acids, bases, and salts. This 2-component, room temperature cure epoxy has non-critical one to one mix ratio by weight or volume, and properties of cured system can be adjusted by altering mix ratio.
---
Original Press Release:

Non-Drip Two Component Epoxy Meets FDA Section 175.105 for Indirect Food Applications



Featuring a thick paste consistency, Master Bond EP21NDFG bonds well to a variety of substrates including metals, composites, glass, ceramics and many types of rubbers and plastics. Unlike many high viscosity systems, EP21NDFG is truly non-drip and will not run or sag, even when applied to vertical surfaces. It produces high strength, durable bonds that resist thermal cycling as well as chemicals including water, oils, fuels, acids, bases and salts.



EP21NDFG is a two component, room temperature curing epoxy that has a non-critical one to one mix ratio by weight or volume. It also has the unusual characteristic of being able to adjust the properties of the cured system by altering the mix ratio. Adding more of Part A (e.g. 2:1 mix ratio) will give a more rigid cure, while adding more of Part B (e.g. 1:2 mix ratio) gives a more forgiving cure.



Once cured, EP21NDFG is an electrically insulative system. It is serviceable over the wide temperature range of -60°F to +250°F. The color of both Parts A and Part B is amber, although, a wide variety of additional color choices are also available. Passing FDA Section 175.105 tests, EP21NDFG is primarily used in food equipment applications where there is an indirect exposure to food and related products. This epoxy is available in standard packaging options ranging from ½ pint to 5 gallon container kits.



Master Bond High Strength Adhesives



Master Bond EP21NDFG is an easy to handle, non-drip, high strength epoxy for indirect food applications. Read more about Master Bond's high strength systems at http://www.masterbond.com/properties/strength-properties-epoxy-compounds or contact Tech Support. Phone: +1-201-343-8983 Fax: +1-201-343-2132 Email: technical@masterbond.com.



Note to Editors:



For a full product description, please visit: http://www.masterbond.com/tds/ep21ndfg

Check out product videos on our YouTube channel: http://www.youtube.com/user/MasterBondVideo



You can embed any of our videos on your website.



CONTACT

James Brenner

Marketing Manager

Email: jbrenner@masterbond.com

Tel: +1-201-343-8983

Fax: +1-201-343-2132



MASTER BOND INC

154 Hobart Street

Hackensack, NJ 07601-3922

Web: www.masterbond.com

More from Adhesives & Sealants