Newly Developed Products of 2017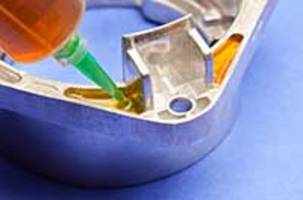 EP62-1BF: Low Viscosity Epoxy With Exceptional Chemical Resistance
EP62-1BF is a two part epoxy featuring the ability to withstand exposure to aggressive chemicals including acids, bases and solvents, even at high temperatures. This low exotherm system has a mixed viscosity of 2,000-5,000 cps, enabling it to used for potting small components. EP62-1BF is thermally stable and has a glass transition temperature (Tg) of 125-135°C and is serviceable over the wide temperature range of -60°F to +400°F [-51°C to +204°C].
For more information, request a data sheet on EP62-1BF: http://click.skem1.com/click/hs3pn-bb98iy-13mg5462/
EP29LPHE: Very Low Viscosity Epoxy Offers Superior Impact Resistance
Optically clear EP29LPHE is a two component epoxy that has notable toughness along with high elongation, which imparts good impact and shock resistance. This product has a mixed viscosity of 350-700 cps and bonds well to a wide variety of substrates including metals, ceramics, glass, optical fibers, graphite and many rubbers and plastics. Its reliable electrical insulation properties combined with its low viscosity and low exotherm, makes it suitable for large casting applications.
For more information, request a data sheet on EP29LPHE: http://click.skem1.com/click/hs3pn-bb98j0-13mg5460/
EP30TC: Low Thermal Resistance, Room Temperature Curing Epoxy
Formulated for thermal management applications, EP30TC is a two component epoxy that contains robust thermally conductive fillers with very fine particle sizes. It has thermal conductivity of 18-20 BTU•in/ft2•hr•°F [2.60-2.88 W/(m•K)] and can applied in sections as thin as 5-15 microns, resulting in a low thermal resistance of 7-10 x 10-6 K•m2/W. This NASA low outgassing certified system can be used for bonding, coating, sealing and encapsulating for the aerospace, electronic, optical and OEM industries.
For more information, request a data sheet on EP30TC: http://click.skem1.com/click/hs3pn-bb98j2-13mg5462/
MasterSil 157: Addition Cured Silicone with Wide Temperature Serviceability
MasterSil 157 is a two part system for potting, encapsulation and sealing applications. This optically clear formulation features a low index of refraction and has the ability to transmit light very well from 220-2,500 nanometers. These properties are retained over the exceptionally broad service temperature range of -175°F to +500°F [-115°C to +260°C]. Highly flexible, it is capable of withstanding the most rigorous thermal cycling and mechanical shock. These properties enable MasterSil 157 to be used in applications involving sensitive optical and electrical components.
For more information, request a data sheet on MasterSil 157: http://click.skem1.com/click/hs3pn-bb98j4-13mg5464/
EP93FRHT: Meets Airbus Standards for Flame Retardancy, Smoke and Toxic Gas
EP93FRHT is a two component epoxy that readily passes the Airbus specifications for flame resistance, smoke emission and toxic gas emission as listed under ABD 0031, Issue F. These tests focus on how quickly this adhesive will self extinguish when subjected to a vertical burn test, optical density of smoke and the toxic gas emitted in the smoke. This non-halogenated system excels in all three criteria. EP93FRHT can be used in interior panels, floor and door assemblies, as well as frame lining for a variety of aircraft. It also can be used for potting electronics.
For more information, request a data sheet on EP93FRHT: http://click.skem1.com/click/hs3pn-bb98j6-13mg5466/
Supreme 3HTND-2DM: Epoxy for Specialty Dam-and-Fill Encapsulation
Supreme 3HTND-2DM is a rapid curing, toughened, one part epoxy system used for the dam-and-fill method for chip-on-board encapsulation. It passes ASTM E595 specifications for NASA low outgassing allowing it to be used in vacuum, aerospace, electro-optic and other related applications. Supreme 3HTND-2DM has superior dimensional stability and a tensile strength of 6,000-7,500 psi at room temperature. It also maintains its Shore D hardness of 85 after withstanding 1,000 hours at 85°C/85% RH.
For more information, request a technical data sheet on Supreme 3HTND-2DM: http://click.skem1.com/click/hs3pn-bb98j8-13mg5468/
Master Bond
Email: newsletters@masterbond.com
Phone:+1 201 343 8983
Master Bond
154 Hobart Street
Hackensack, New Jersey 07601 United States
More from Adhesives & Sealants