New UMT-W Fuse Ideal for Applications with Long Wires
Press Release Summary: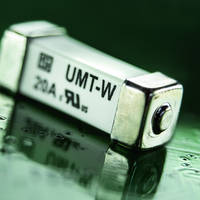 Available in five rated currents from 5 A to 20 A and reaches rated voltages of up to 125 V AC & DC with a breaking capacity of up to 1000 A
Offered with super time-lag tripping characteristics
Suitable as a fail-safe device in demanding applications
---
Original Press Release:
SMD Circuit Protector is Suitable as a Fail-Safe Device
Santa Rosa, California, March 5, 2020 – SCHURTER launches a pulse-proof SMD ceramic fuse with super time-lag tripping characteristics. The UMT-W is particularly suitable as a fail-safe device in demanding applications.
The cuboid shaped (5.3 x 16 mm), extremely compact SMD fuse is available in five rated currents from 5 A to 20 A and reaches rated voltages of up to 125 V AC & DC with a breaking capacity of up to 1000 A. All these you get with a super slow and precisely defined melting characteristic unique for an SMD fuse.
The UMT-W is recommended wherever high inrush currents flow (e.g. motor control systems) and is particularly suitable for applications with long wires (e.g. avionics), which are often primarily protected by an electronic fuse. If this monitoring fails, or does not perform its task correctly, the UMT-W takes over as a fail-safe device, and transfers the system to a safe, current-less state. Due to the precise melting times, with its precisely defined min/max corridor at 4xIn, robust and selective safety concepts can be implemented on top of the electronic fuse.
The UMT-W fuse is a "COTS+" product. The "+" comes from extended fuse qualification tests (e.g. AEC-Q200) and highly controlled manufacturing processes, which are available to all SCHURTER customers. For higher reliability requirements, we also offer visual inspection according to MIL-PRF 55342, different types of up-screenings (burn-in) and detailed test reports on request.
Pricing for starts at about $3.00 per piece in 100-piece quantities. Link to datasheet UMT-W. For sales and product information, contact Cora Umlauf at (800) 848 -2600 or by email at info.sinc@schurter.com. I have attached an image for online publishing.
If you have any questions please do not hesitate to contact suzanne.bowser@schurter.com.
About SCHURTER Inc.
The SCHURTER Group is the world's leading Swiss technology company providing components and complex solutions that ensure safe power supply and simplified equipment operation. The company's professional competence, financial independence, innovative strength and distinctive corporate culture, propel the SCHURTER Group, together with its customers and partners, into the digital future. The safe&easy brand claim not only refers to the products, but also the company's business philosophy, which strives for sustainable success through innovation, high-quality products and service, flexibility and proximity to customers.
SCHURTER is known globally as an innovator, manufacturer and distributor of fuses, connectors, circuit breakers, switches, EMC products, and input systems. Touch screens and touch panels, capacitive sensor keypads, membrane keypads and housing systems are developed in close cooperation with its customers. Within its business unit Solutions, SCHURTER combines all competencies and puts them at the customer's disposal. SCHURTER products and solutions are developed especially for specific industry segments – medical, data and communication, automotive, avionics & space, energy and the broader industrial market. SCHURTER considers the quality of its products and services as the key factor to the company's lasting success. Its management and improvement processes are designed and certified according to ISO 9001, ISO 13485, ISO 14001, ISO 45001 and IATF 16949, using the EFQM and Baldrige Excellence Models, as well as the application of Lean Management principles such as Value Stream Planning, Power Innovation, SSO, and Six Sigma.
SCHURTER Inc., Santa Rosa, California is the exclusive North America sales and distribution office for the SCHURTER Group.
Editorial Contact:
Suzanne Bowser
suzanne.bowser@schurter.com
Contact This Company Download Spec Sheet
More from Controls & Controllers