New Thetis-I Radio Module for Wirepas Mesh Network
Press Release Summary: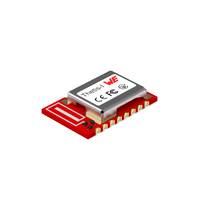 Thetis-I is based on the Nordic nRF52840 chipset and the proprietary 2.4 GHz radio module
Energy saving module offers the choice between low-energy and low-latency modes
Measures 8×12×2 mm and supports authentication and encryption, stand-alone or host-controlled operation
---
Original Press Release:
Würth Elektronik Thetis-I with Evaluation Kit
Radio Module and Test Option for the Wirepas IoT Network Protocol
Waldenburg (Germany), 8 April 2021—Würth Elektronik launches Thetis-I, a ready-to-use radio module for Wirepas mesh networks. Thetis-I is the perfect solution for IoT device manufacturers. Networks with technology from Wirepas, the Finnish software provider, are self-healing and freely scalable. Each device with a Thetis-I radio module can also act as a router which means no further infrastructure is required for mesh communication. Würth Elektronik offers developers the Thetis-I Evaluation Kit. It contains an evaluation board, a USB radio stick, and three sensor nodes. Thanks to the tailored Wirepas Commander software, this kit can be operated and configured directly via a PC.
Thetis-I is based on the Nordic nRF52840 chipset and the proven proprietary 2.4 GHz radio module. The radio module, optimized for Wirepas networks, is extremely energy-saving and offers the choice between low-energy and low-latency modes. The module, which measures just 8×12×2 mm, can be configured remotely using the freely available Wirepas Commander software. It supports authentication and encryption, stand-alone or host-controlled operation. The wide range of potential applications can be tested using the Evaluation Kit. Wirepas technology enables easy connection to well-known cloud platforms. The slim evaluation board allows a controller board to be connected for developing applications. A battery-powered sensor board equipped with the versatile WSEN-PADS pressure sensor and the WSEN-HIDS humidity sensor readily provides an application example for a mesh network.
Thetis-I and the Evaluation Kit are now available from stock without minimum order quantities. Individualized firmware versions can also be supplied on request.
About Wirepas
Wirepas is a leading IoT connectivity company focused on large-scale, low-power IoT networks. Together with its steadily growing ecosystem and partners, it raises efficiency in applications such as Smart Buildings, Smart Factories and Smart Logistics. Wirepas Mesh—continuously evolving IoT connectivity software—is the only technology allowing any number of devices, even battery-powered ones, to create a network autonomously. In addition, various device types are interoperable in a network. This mesh network provides large-area wireless coverage, but can also reliably and autonomously manage a high density of devices (up to a thousand devices per cubic meter).
Wirepas serves its customers around the world with offices in Australia, Brazil, Finland, France, Germany, India, South Korea and the United States.
More information at wirepas.com
About the Würth Elektronik eiSos Group
Würth Elektronik eiSos Group is a manufacturer of electronic and electromechanical components for the electronics industry and a technology company that spearheads pioneering electronic solutions. Würth Elektronik eiSos is one of the largest European manufacturers of passive components and is active in 50 countries. Production sites in Europe, Asia and North America supply a growing number of customers worldwide.
The product range includes EMC components, inductors, transformers, RF components, varistors, capacitors, resistors, quartz crystals, oscillators, power modules, Wireless Power Transfer, LEDs, sensors, connectors, power supply elements, switches, push-buttons, connection technology, fuse holders and solutions for wireless data transmission.
The unrivaled service orientation of the company is characterized by the availability of all catalog components from stock without minimum order quantity, free samples and extensive support through technical sales staff and selection tools.
Through its technology partnership with the Audi Sport ABT Schaeffler Formula E Team and its support for the Formula Student racing series, the company demonstrates its innovative strength in eMobility (www.we-speed-up-the-future.com).
Würth Elektronik is part of the Würth Group, the world market leader for assembly and fastening technology. The company employs 7,300 staff and generated sales of 823 million euros in 2020.
Würth Elektronik: more than you expect!
Further information at www.we-online.com.
Press Contact:
HighTech communications GmbH
Brigitte Basilio
Brunhamstrasse 21
81249 Munich
Germany
Phone: +49 89 500778-20
Telefax: +49 89 500778-77 
E-mail: b.basilio@htcm.de
www.htcm.de
More from Materials