New Buttons and Switches are Suitable as Reset Buttons or as Operating Elements in Membrane Keyboards
Press Release Summary: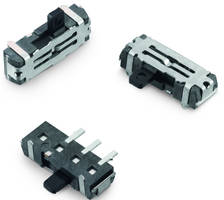 Available in WS-TASV and WS-TASU buttons, WS-SLSU slide switch and WS-RSTV series device on/off switch variants
WS-SLSU SPDT switch comes in horizontal design that is attached to outer edge of the PCB as SMT mountable component
WS-RSTV black rocker switch offered in 20.2 mm. diameter housing and is Ideal for housing assembly
---
Original Press Release:
Variants of On and Off Switching
Würth Elektronik extends its switch portfolio
Waldenburg (Germany), 9 July 2020 – New buttons and switches enrich the extensive Würth Elektronik electromechanical portfolio: the miniaturized WS-TASV and WS-TASU buttons, WS-SLSU slide switch and another WS-RSTV series device on/off switch.
The 8.7 x 3.0 x 2.0 mm WS-SLSU SPDT switch is a slide switch in horizontal design, which is attached to the outer edge of the PCB as a SMT mountable component. Würth Elektronik also offers WS-TASU (6.2 x 3.0 x 3.5 mm, actuating force 160 gf), a switch for edge connection. The new miniaturized buttons, which are suitable as reset buttons on the board or as operating elements in membrane keyboards, are available in new size and actuating force variants: WS-TASV in 3.0 x 2.6 x 1.4 mm package size with 160, 240 or 450 gf, as well as the 4.7 x 3.6 x 2.5 mm and 4.5 x 4.5 x 0.55 mm package sizes with actuating forces of 160 or 260 gf.
The WS-RSTV black rocker switch is a round standard rocker switch for housing assembly in a 20.2 mm diameter housing cut-out. It is available for DPST and SPST schematics. WS-RSTV is available in a 90-degree-rotated version and withstands at least 10,000 switching cycles.
As a service for developers and manufacturers, the new Würth Elektronik switches are available from stock without a minimum order quantity. Free samples can be requested.
Available images
The following images can be downloaded from the Internet in printable quality: http://www.htcm.de/kk/wuerth
About the Würth Elektronik eiSos Group
Würth Elektronik eiSos Group is a manufacturer of electronic and electromechanical components for the electronics industry and a technology company that spearheads pioneering electronic solutions. Würth Elektronik eiSos is one of the largest European manufacturers of passive components and is active in 50 countries. Production sites in Europe, Asia and North America supply a growing number of customers worldwide.
The product range includes EMC components, inductors, transformers, RF components, varistors, capacitors, resistors, quartz crystals, oscillators, power modules, Wireless Power Transfer, LEDs, sensors, connectors, power supply elements, switches, push-buttons, connection technology, fuse holders and solutions for wireless data transmission.
The unrivaled service orientation of the company is characterized by the availability of all catalog components from stock without minimum order quantity, free samples and extensive support through technical sales staff and selection tools.
Through its technology partnership with the Audi Sport ABT Schaeffler Formula E Team and its support for the Formula Student racing series, the company demonstrates its innovative strength in eMobility
(www.we-speed-up-the-future.com).
Würth Elektronik is part of the Würth Group, the world market leader for assembly and fastening technology. The company employs 7,300 staff and generated sales of 822 million euros in 2019.
Würth Elektronik: more than you expect!
Further information at www.we-online.com
Further information:
Würth Elektronik eiSos GmbH & Co. KG
Sarah Hurst
Max-Eyth-Strasse 1
74638 Waldenburg
Germany
Phone: +49 7942 945-5186
E-mail: sarah.hurst@we-online.de
www.we-online.de
Press contact:
HighTech communications GmbH
Brigitte Basilio
Brunhamstrasse 21
81249 Munich
Germany
Phone: +49 89 500778-20
Telefax: +49 89 500778-77
E-mail: b.basilio@htcm.de
www.htcm.de
More from Thermal & Heating Equipment