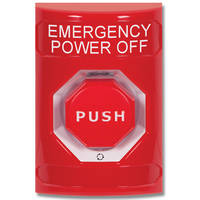 Stopper Station Push Buttons are available in red, green, yellow, white or blue colors. Units offer switch options such as momentary, key-to-reset, turn-to-reset and key-to-activate. Products provide optional illuminations and come with optional 12-24 volt LED insert. Push buttons are offered in polycarbonate protective covers with or without siren and meet UL and cUL standards.
Read More »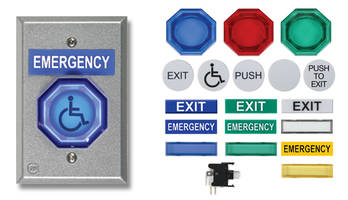 May 16, 2017 - The STI 2" Universal Button is a time and money saver. Eliminating having to stock dozens of push buttons, the UB-2 offers over 300 combinations in one convenient package. This single-gang momentary button includes two sets of Form "C" contacts, multiple message plates and button inserts. Constructed of cast aluminum, the faceplate takes tough knocks in stride. Slightly...
Read More »
MOORESTOWN, N.J. - December 6, 2016 Alliance Sensors Group is pleased to announce its "SenSet™ Field Programmability" technology is now a standard feature in its LR, LRS, LV, MR-7, SS-7, MHP-7 and ME-7 linear position product lines. SenSet™ allows a user to perform a field calibration to adjust for mechanical tolerance variations with the ease of pushing a button or grounding a lead,...
Read More »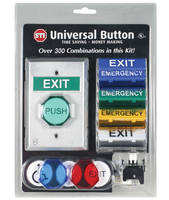 December 6, 2016 - The Universal Button helps eliminate having to stock dozens of push buttons, and wasting precious time and money tracking down just the right button for a customer. The UB-1 has everything required to provide just what the customer wants in one convenient package. Use the switch as is or it easily reconfigures for a specific application. This single-gang button has two sets of...
Read More »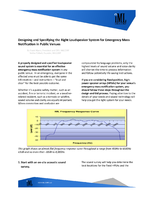 For every industry, there is nothing more crucial than having effective strategies for dealing with emergency situations. These are events you never hope for, but want the assurance of having the right solutions implemented when time is of the essence. Loudspeaker system optimization is essential when ensuring that communication is not lost when it is most needed. In this guide, you will learn about what key points to keep in mind when designing a loudspeaker system for your campus. This includes performing an on-site sound survey, selecting the right equipment for your applications, complementing your system with the right technology solutions, creating pre-assigned messages for different emergency situations, and having system accessibility no matter the circumstances. Download this guide for additional information on these public safety measures.
Read More »
The Micro Plastics sign fastener is designed for rapid assembly and disassembly of a sign or other panel to its support structure. Designed for a hole diameter of 5/16 to 3/8" (8mm to 9.5mm), the sign fastener can be used to fasten two pieces together with total panel thickness from 1" to 1.64" (25.4mm to 41.6mm).  Simply squeeze the keeper together and slide onto the pin, then release the...
Read More »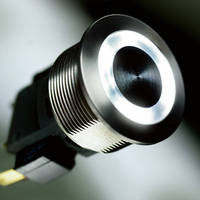 Available with integrated 5, 12, and 24 V resistor options, MSM series offers white illumination to supplement existing red, green, yellow, and blue options. Construction includes stainless steel housing and actuator, with micro switch snapped into housing with 19, 22, or 30 mm mounting diameter. Switching voltage ratings range from 5 Vdc to 250 Vac, and current ratings vary from 0.1–10 A....
Read More »
Cleveland, OH - Jergens, Inc., one of the world's largest manufacturers of lifting, workholding, and fastening solutions, announces the addition of threaded rest buttons with sensor holes to its locating components line. This latest addition to Jergens' line of threaded rest buttons eliminates the need for users to drill their own sensor holes through a case hardened standard rest button. For...
Read More »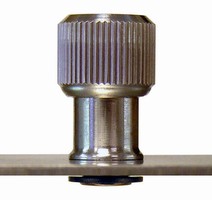 Incorporating MAThread® anti cross-threading captive screw technology, PEM® floating access fasteners compensate for up to .060 in. mating thread misalignment. Type PF11MW with knurled cap meets operator access area requirements similar to UL 508, while PF12MW with smooth cap meets service access area requirements similar to UL 1950. With #4-40 to ¼-20 and M3 to M6 thread sizes, they suit...
Read More »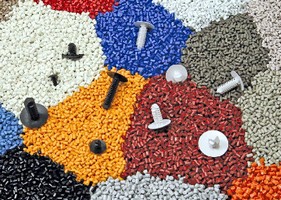 Available in 50 standard and 20 metric sizes with 8 item clips, X-MAS Tree Type Fasteners are molded in corrosion, abrasion, and vibration resistant black nylon with ribbed shank to facilitate installation. Clips hold secure in wide range of materials and work in blind hole applications. Standard line fits hole sizes of 1/8-3/8 in. and accommodates panel thicknesses from .062-2.00 in., while...
Read More »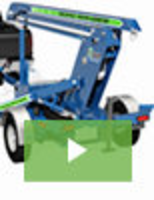 Providing adequate fall protection is always a critical consideration and one that in many cases can be difficult to ensure. The new Mobile Fall Protection Unit is designed to facilitate positive fall protection in applications that would typically be difficult or impossible to provide with standard methods. To learn all about the advantages and convenience, see our video.
Read More »