New 5-axis Vise with Integrated Elastomer Damping
Press Release Summary: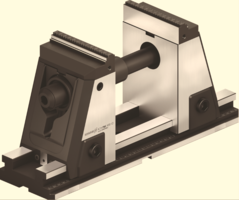 KSX-C2 seamlessly fits into the modular system for high-efficient workpiece clamping
Achieves good results in terms of plane-parallelism and perpendicularity with its active jaw pull-down
Offered in four base body lengths such as 330, 430, 500, 630 and 800 mm
---
Original Press Release:
Slim 5-axis Vise with Tool-free Jaw Quick-change and Active Jaw Pull-down for Precise Machining of The Sixth Side
The KONTEC KSX-C2, a 5-axis vise from SCHUNK, provides new opportunities for high-precision 6-sided machining. With a striking, upwardly tapered outside contour, the KONTEC KSX-C2 improves accessibility with standard tools. With its active jaw pull-down the KONTEC KSX-C2 achieves excellent results in terms of plane-parallelism and perpendicularity, and therefore creates ideal preconditions for challenging 6-sided machining.
The vise is also setting benchmarks with its adjustable center, even when it comes to set-up times: due to a tool-free jaw quick-change system, reversible jaws for enlarging the clamping area as well as a unique basic jaw stroke of 130 mm which is second to none on the market, the vise can be quickly and precisely converted for a new range of parts. A broad range of quick-change jaws is available for this purpose. Moreover, the clamping range can be enlarged with a standardized piston rod extension.
Integrated elastomer damping
A torque wrench is used for continuously adjusting the clamping forces of the KONTEC KSX-C2, and a maximum of 40 kN at a torque of 120 Nm can be achieved. Therefore, this expert vise in 6-sided machining has a lot of power for safe holding – even in the case of minimum clamping surfaces. The forces for clamping sensitive parts can be finely adjusted. The long guiding system and the arrangement of the clamping mechanism ensure a rigid, dimensionally stable set-up. The integrated elastomer damping absorbs occurring oscillations during machining, resulting in excellent workpiece surface quality and tool service life. The drive and adjustment mechanisms of the 5-axis vise are fully encapsulated, making it perfectly equipped against chips, dirt, and coolant.
Comprehensive standard program
The SCHUNK KONTEC KSX-C2 is maintenance-free and is offered in four base body lengths (330 mm, 430 mm, 500 mm, 630 mm, 800 mm) and in two different heights (175 mm, 214 mm). It seamlessly fits into the modular system for high-efficient workpiece clamping from SCHUNK and can be quickly combined with the VERO-S quick-change pallet system or exchanged at a maximum repeat accuracy on the machine table. The necessary clamping pins can be directly integrated in the base body of the 5-axis vise without requiring adapter plates. As clamping is done by tension, no bending load occurs on the base body if a quick-change pallet system is used. schunk.com
About SCHUNK
SCHUNK is a competence leader for gripping systems and clamping technology.  3,500 employees in 9 plants and 34 directly owned subsidiaries ensure an intensive market presence. With more than 11,000 standard components SCHUNK offers the world's largest assortment of gripping systems and clamping technology from one source. Since 2012, Goalkeeper legend Jens Lehmann is brand ambassador for safe, precise gripping and holding. www.schunk.com
Technical Contact:
Michael Gaunce
Group Manager- Stationary Workholding
919-767-2007
michael.gaunce@us.schunk.com
schunk.com