New 10-3041 Epoxy Adhesive Develops a 3,000 psi Lap Shear Strength
Press Release Summary: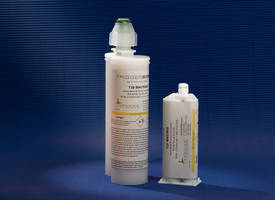 Preferred in the aerospace industry because it saves time and reduces weight
Acts as an electrical insulator therefore suitable for many electronic bonding applications
Bonds to a variety of plastics and metals
---
Original Press Release:
Fast Curing Toughened Epoxy
Epoxy adhesives offer many advantages over traditional mechanical fasteners such as rivets, nuts and bolts, pins, or welding. However, conventional two part epoxies that offer excellent bonds can be slow curing. The new 10-3041 Toughened Epoxy Adhesive develops a 3,000 psi lap shear strength within four hours. Within minutes the material is dry to the touch.
Epoxy adhesives save time and reduce weight. This is why the aerospace industry prefers using epoxy adhesives over mechanical fasteners.
The 10-3041 high performance epoxy adhesive forms excellent bonds to a variety of plastics and metals. It also acts as an outstanding electrical insulator and therefore is suitable for many electronic bonding applications.
For easy application, the 10-3041 is packaged in the convenient TriggerBond® system which eliminates the weighing and mixing of a two part epoxy.
Samples are readily available and ship within three days.
Epoxies, Etc. has been formulating solutions for electronic circuitry and assemblies for over 30 years. Our chemists and engineers are able to provide specific application support. Technical Support can be reached by phone 401-946-5564 or sales@epoxies.com.
More from Electrical Equipment & Systems