Modular System provides zero point fixturing.
Press Release Summary: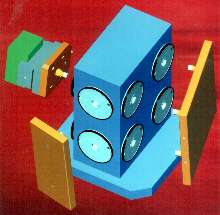 Modular System 9000 allows for quick and accurate changing of pallets, workpieces, fixtures, and vices. It offers positioning and repeatability to within .00039 in. Clamper Models 9001 and 9003 are normally in closed position and are opened via air or hydraulic pressure. Axial loads of 2,200 lb are standard, with up to 6,750 lb of clamping force. System 9000 is suited for HMCs, VMCs, grinding machines, CMMs, and vertical EDM's.
---
Original Press Release:

Hirshmann Announces Availability of New Low Cost Fixturing System


HIRSCHMANN ENGINEERING, INC., USA, Buffalo Grove, Illinois announces the availability of HIRSCHMANN's new SYSTEM 9000 modular "Zero Point" Fixturing. This new inexpensive system allows for the quick and accurate changing of pallets, workpieces, fixtures, vices, etc. Changing from one set-up to another takes only a few seconds and eliminates the need to realign and locate after each change.

Two types of clampers, Models 9001 and 9003, are available in two different clamping forces. They are normally in the closed position and are opened via air or hydraulic pressure. Axial loads of 2200 lbs are standard, with up to 6750 lbs of clamping force. The System 9000 offers positioning and repeatability to within .00039"

The H9001 clamper can be simply secured to a machine table or platen using toe clamps. The H9003 clamper can be partially or fully integrated into a base plate, the machine table or platen. Each clamper can be used as an individual or as part of a series. For example, in a four-clamper configuration, all four clampers can be used either to clamp one workpiece or four separate workpieces.

The System 9000 utilizes three type of clamping journals. (Pull studs) The "Centering" journal is used to locate the center of the clamper. The "Compensating" journal locates the radial position when two or more clampers are used for one workpiece. The third "Clamping" journal is used for clamping pressure only in the remaining clampers when three or more are used to hold one workpiece. The clamping journals are easily mounted to pallets, workpieces, fixtures, vices, etc via a standard socket head cap screw.

The "Centering" and "Compensating" journals also require a locating bore. The System 9000 can be used for any application to reduce set-up time. It is ideal for horizontal and vertical machining centers, grinding machines, coordinate measuring machines, vertical EDM's and more. The full range of use is only restricted by one's imagination.

HIRSCHMANN's product line includes their own integrated robotic loaders, the EROBOT Series, Astrol SA, Automatic Tool Loaders and a complete line of high precision tooling to support EDM and CNC machining. HIRSCHMANN is also the exclusive importer of Ionoplus® synthetic dielectric fluid and other synthetic machining fluids from Oel Held. Other products include heavy-duty metric rod ends, spherical bearings, axial shaft seals, and HIRSCHMANN/ Saralle Modular Storage Systems.

For additional information about product availability, contact:
HIRSCHMANN ENGINEERING, USA, INC.
1558 Barclay Blvd.
Buffalo Grove, IL 60089.
Phone: 847-419-9890.
Fax: 847-419-9895.
E-mail: info@hirschmannusa.com
Web site: www.hirschmannusa.com

Related