Lord Corporation's New Release Agents increases mold-picking time and reduces mold folding in molds.
Press Release Summary: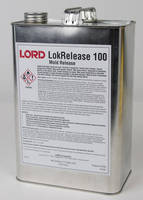 Suitable for rubber-to-metal part manufacturing facilities, LORD LokRelease solutions offer semi-permanent, anti-stick surface coating for easy part removal from molded Elastomers. Presented in aerosol, aqueous and solvent-based solutions, a single application allows for multiple molding cycles, eliminating post-finishing problems. Containing no Class I or Class II ozone-depleting substances; release agents also reduce rust and corrosion in steel molds.
---
Original Press Release:
LORD Corporation Launches New Family of Fast-Curing Release Agents for Molded Elastomers
LORD Corporation – a leader in developing and manufacturing high-performance adhesive products – has announced the availability of a proven family of fast-curing release agents designed for use with molded elastomers.

LORD® LokRelease™ Mold Release solutions are formulated to increase time between mold-picking and to reduce mold fouling in the rubber-to-substrate molding processes.

"Now commercially available, our mold releases have been used in LORD rubber-to-metal part manufacturing facilities for several years," says Chris Schneider, Manager, Tech Services, LORD Corporation. "Building on more than 90 years of experience with world-leading in-mold bonding adhesives, LORD LokRelease solutions provide a semi-permanent, anti-stick surface coating for fast, easy part removal from molds."

Applications for LORD LokRelease Mold Release include industrial rubber-to-substrate molding, automotive rubber-to-substrate molding and other molding processes such as injection, compression and transfer molding.

Advantages of the LORD LokRelease Mold Release solutions include the following:

• Versatility--LokRelease is available in three convenient product forms of aerosol, aqueous and solvent-based solutions.

• Process Enhancer--Provides quick, easy part release and produces low build-up, allowing more production time between mold cleanings.

• Manufacturing Efficiencies--A single application allows for multiple molding cycles.

• Improved Appearance--Reduces defects caused by sticking and is nontransferable, eliminating post-finishing problems.

• Environmentally Recommended--Contains no Class I or Class II ozone-depleting substances; contains no 1, 1, 1, tricholoroethane or methylene chloride. A water-based coating reduces rust and corrosion in steel molds.

Substrates compatible with LORD LokRelease include the following:

• EPDM

• Natural rubber

• Nitrile

• Neoprene

• Epoxy/plastic laminates

• Silicone

• Fluoropolymer

• Plastic

"This family of mold release solutions makes part release from the mold quick and easy," says Schneider. "Just a single application allows for multiple molding cycles. LokRelease also reduces defects caused by sticking, does not transfer to the elastomer compound and doesn't interfere with compound chemistry."

For more information, call 1-877-275-5673 or visit LORD.com/LokRelease.

About LORD Corporation

LORD Corporation is a diversified technology and manufacturing company developing highly reliable adhesives, coatings, motion management devices, and sensing technologies that significantly reduce risk and improve product performance. For more than 90 years, LORD has worked in collaboration with our customers to provide innovative oil and gas, aerospace, defense, automotive and industrial solutions. With world headquarters in Cary, N.C., LORD has approximately 3,100 employees in 26 countries and operates 19 manufacturing facilities and 10 R&D centers worldwide. LORD actively promotes STEM education and many other community engagement initiatives. For more information, visit http://www.lord.com.

LORD LokRelease Mold Release™ solutions at-a-glance

PRODUCT APPEARANCE DISPERSING MEDIUM DENSITY USES
LokRelease 100 Colorless Liquid Solvent 6.43 lbs./gal. Molded elastomers, including EPDM, natural rubber, nitrile and neoprene
LokRelease 100EZ Colorless Aerosol Propellant/Solvent 5.92 lbs./gal. Molded elastomers, including EPDM, natural rubber, nitrile and neoprene.
 LokRelease 200 Colorless to White Liquid Water 8.34 lbs./gal Molded elastomers, including EPDM, natural rubber, nitrile and neoprene PRODUCT APPEARANCE SPECIFIC GRAVITY SOLIDS CONTENT BY WEIGHT USES LokRelease 300 Opaque White Liquid 0.9-1.1 1.0-4.0 Molded rubber, fluoropolymer, plastic, and epoxy and plastic laminates.

LORD Corporation

111 Lord Drive
Cary, NC 27511
www.LORD.com

Media Contact:
Kim Richardson,
336-970-7888
or kimberly_richardson@LORD.com
More from Electrical Equipment & Systems