Linear Positioning Stages offer speeds up to 240 in./sec.
Press Release Summary: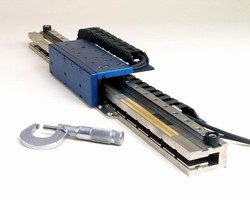 SR Linear Positioning Stages offer acceleration up to 12 G, zero cogging, resolution to 0.000004 in., repeatability to ±0.00004 in., and load capacity to 55 lb. Standard non-contact 3-phase brushless motors, commutated sinusoidally or trapezoidally, have continuous forces up to 165 lb and peak forces up to 550 lb. Available in travel lengths as long as 10 ft, compact, single-rail stages are supplied with cable carrier for required wiring and hoses.
---
Original Press Release:

New Linear Motors Stage from H2W Technologies



Valencia, CA - Compact, single rail positioning stages from H2W Technologies are lightweight, have a small footprint, offer high speed 6 m/sec. (240 in./sec.), high acceleration up to 12 g's, zero cogging, high resolution to 0.1 µm (0.000004 in.), high repeatability to ± 1 µm (0.00004 in.), and load capacity to 25 Kg (55 lbs.). These high-speed linear motor stages are ideal for applications requiring high acceleration, high accuracy, repeatability, and reliability such as: Medical parts testing, high precision printing, Y-axis for pick-and-place equipment and robotics, vision inspection, flight simulators, and parts transfer.

The standard non-contact 3 phase brushless motors have an ironless core winding resulting in a low moving mass stage for higher acceleration. The motor can be commutated either sinusoidally or trapezoidally for optimum performance. They have continuous forces up to 733 N (165 lbs) and peak forces up to 2444 N (550 lb.) H2W Technologies SR Linear Positioning Stages are available in travel lengths as long as 3 m (10 ft.) and can be supplied with a magnetic, glass, or metal scale linear encoder with a reference mark and limit switches. For easy integration into new and existing applications the stages can be supplied vacuum compatible, custom mounting holes can be specified, and the stages can be specified as part of a complete motion control system, which includes a SR stage, amplifier, and a controller. Also, SR stages are supplied with a cable carrier that is able to accommodate any user required wiring and hoses.

H2W Technologies, Inc. is dedicated to the design and manufacture of linear and rotary motion products that are used in the motion control industry. The complete line of linear electric motors include: Single and dual axis linear steppers, DC brush and brushless linear motors, voice coil actuators, and AC induction motors. Also offered is a complete line of ball screw, lead screw and belt driven positioning stages.

Other motion control products include: Limited angle torque motors for compact limited angular excursion rotary servo applications, 3-phase brushless rotary servo motors with matching digital servo amplifiers and permanent magnet linear brakes for fail-safe zero power braking for baggage handling and people moving applications as well as amusement park rides.

With over 75 years combined experience in the linear and rotary motion field, the H2W Technologies team of engineers offers the optimal solution to the most demanding motion control requirements.

For additional information contact Mark Wilson at H2W Technologies, Inc.;
28310-C Avenue Crocker, Valencia, CA 91355; Tel: 888-702-0540; Fax: 661-702-9348; E-Mail: info@h2wtech.con or visit the Website at www.h2wtech.com


More from Communication Systems & Equipment