Lathe facilitates transition from manual machines to CNC.
Press Release Summary: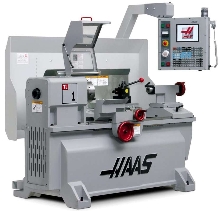 Combining functionality of manual lathe with flexibility of CNC system TL-1 Toolroom Lathe offers 4 modes of operation: manual, semi-automatic, automatic, and full CNC. Intuitive Turning System uses full-color graphics on LCD, enabling operators to perform complex operations without knowledge of G-code programming. Machine employs A2-5 spindle nose and 7.5 hp vector drive spindle that spins to 1,800 rpm. Max cutting diameter is 16 in. and cutting length is 30 in.
---
Original Press Release:
The Haas Toolroom Lathe: Powerful, Flexible Simplicity
To survive in today's competitive market, it is increasingly necessary for toolrooms and small machine shops to make the move to CNC. The TL-1 Toolroom Lathe from Haas Automation, Inc., eases the transition from manual machines to CNC - without breaking the bank. The Haas TL-1 Toolroom Lathe combines the full functionality and simplicity of a manual lathe with the power and flexibility of the easy-to-use Haas CNC system - all in an American-made machine that is base-priced less than $20,000 (US). The Haas Toolroom Lathe provides a maximum cutting diameter of 16" and a maximum cutting length of 30". The maximum part swing is 16" over the front apron and 8.5" over the cross slide. The TL-1 features a powerful 7.5-hp (peak) vector drive spindle that spins to 1,800 rpm, and it comes standard with an A2-5 spindle nose that accepts a number of optional chucks. For additional part support, an optional manual tailstock is available that provides 30" of travel. Brushless servo motors on all axes provide precise positioning, and a one-piece cast-iron base damps vibration and provides rigidity for heavy cuts. The TL-1 runs on either single- or three-phase power. The TL-1 features Haas' new Intuitive Turning System - a proprietary conversational operating system that makes cutting parts and creating part programs nearly effortless. Through an interactive graphical environment - using full-color graphics on a liquid crystal display (LCD) - the control guides the operator through the steps necessary to machine a part. The operator touches off the X and Z surfaces, and then enters basic machining information - feedrate, spindle speed, depth of cut, etc. - as prompted. Once all information is entered, the machinist simply pushes Cycle Start and the machine performs the desired operation. A Recorder function allows multiple operations to be saved, so that the information can be retrieved and the part duplicated. Operations that would be difficult or even impossible on a manual machine, such as compound angles, radii, tapers, profiles, ID and OD threading and rigid tapping, are all possible on the TL-1 - without knowledge of G-code programming. For extreme versatility, the TL-1 operates in four modes. In manual mode, X and Z axes are moved via manual handwheels (or the electronic jog handle), with the Haas control providing precise digital read-out (DRO) of position; electronic soft stops may be set to limit the travels of the lathe. In semi-automatic mode, the TL-1 performs dual-axis simultaneous linear interpolation, such as chamfers and tapers, using a single handwheel, again with accurate, easy-to-read DRO. In automatic mode, the TL-1 has built-in machining cycles for rough and finish profiling, radiuses, chamfering, grooving, threading, drilling and tapping. In full CNC, the TL-1 is programmed using standard G code, and all axes are controlled by the Haas control. For more information, call 800-331-6746 or visit www.HaasCNC.com on the Internet.
Related