Motion Sensors / Detectors / Transducers
Laser Gauge measures length and speed.
Press Release Summary: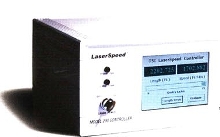 Noncontact Model LS200 LaserSpeed® measures with accuracy better than ±0.1%. It operates on +24 Vdc, can replace tachometers, has no moving parts, and is permanently calibrated. Measurements are not affected by material surface or color. Applications include measuring length and speed of wire, cable, steel, aluminum, nonferrous metals, paper and corrugated products, web products, and plastic films and tapes.
---
Original Press Release:
Model LS200 LaserSpeed® Noncontact Length and Speed Gauge

The Model LS200 provides highly accurate, noncontact length and speed measurements at an affordable price.

Able to measure length and speed with accuracy better than ±0.1%, the LS200 is the ideal gauge for replacing contact tachometers which are prone to measurement errors caused by slippage, dirt build-up, and day-to-day wear problems. Equally important, the LS200 has no moving parts and uses 100% solid-state digital technology. Consequently, the LS200 is permanently calibrated, resulting in significant time and money savings.

The Model LS200 is available in three competitively priced models to meet all your application requirements.

Benefits:

- Direct replacement for tachometers with no moving parts to
wear out

- Noncontact length and speed measurement

- No slippage

- Non-marking

- Not affected by material surface or color

- High accuracy and repeatability

- Permanently calibrated

- Low cost of ownership

- Compact, rugged industrial sensor operates on +24VDC

- "Smart" gauge--optics, electronics and I/O included in the gauge

Range of Applications

The Model LS200 is well suited for a range of applications, including, but not limited to, measuring length and speed of:
- Wire, cable and optical cable

- Steel, aluminum and other nonferrous metals

- Paper and corrugated products

- Web products

- Non-woven products

- Rubber tube and hose

- Building products

- Plastic films and tapes

More from Electrical Equipment & Systems