IR Emitter/Photodiode Pairs suit IR touch panels.
Press Release Summary: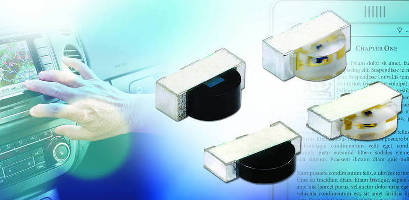 Supplied in 3 x 2 mm side-view surface-mount packages, AEC-Q101-qualified VSMB10940X01/VEMD10940FX01 have 1 mm profile, while VSMB11940X01/VEMD11940FX01 offer 0.6 mm profile. VSMB emitters, featuring GaAIAs multi quantum well technology, provide radiant intensity of 1 mW/sr at 20 mA, forward voltage of 1.3 at 20 mA, and switching time of 15 ns. VEMD silicon PIN photodiodes offer reverse light current of 1.1 µA and 3 µA, respectively, with radiant sensitivity from 780–1,050 nm.
---
Original Press Release:

Vishay Intertechnology Releases Two New Matched Pairs of AEC-Q101-Qualified, High-Speed IR Emitters/Photodiodes



For IR Touch Panels, Devices Feature 3 mm by 2 mm Side-View SMD Packages With Industry-Low Profiles Down to 0.6 mm



MALVERN, Pa. — Vishay Intertechnology, Inc. (NYSE: VSH) today introduced two new matched pairs of AEC-Q101-qualified, high-speed 940 nm infrared (IR) emitters and silicon PIN photodiodes in compact 3 mm by 2 mm side-view surface-mount packages. For automotive and consumer IR touch panels, the VSMB10940X01/VEMD10940FX01 feature a profile of 1 mm while the VSMB11940X01/VEMD11940FX01 offer a profile of 0.6 mm, the industry's lowest for side-looking, AEC-Q101-qualified components. All Vishay Semiconductors devices released today offer an ultra-wide ± 75° angle of half-intensity.



With their low profiles, the VSMB10940X01/VEMD10940FX01 and VSMB11940X01/VEMD1194FX01 are optimized for use in IR touch panels for devices such as printer displays, eBook readers, smartphones, tablets, and ultrabooks, as well as automotive interior touch displays for multimedia and navigation. With their 0.6 mm profile, the VSMB11940X01/VEMD11940FX01 allow for slimmer designs in these products while the larger photosensitive area of the VSMB10940X01/VEMD10940FX01 enables higher signal output.



Offered in clear, untinted plastic packages, the VSMB10940X01 and VSMB11940X01 IR emitters feature GaAIAs multi quantum well (MQW) technology. The devices provide high radiant intensity of 1 mW/sr typical at 20 mA, low forward voltage of 1.3 at 20 mA, and fast switching times of 15 ns.



The VEMD10940FX01 and VEMD11940FX01 photodiodes feature a daylight blocking filter matched with 830 nm to 950 nm IR emitters, and they offer reverse light current of 1.1 µA and 3 µA, respectively. Both devices provide high radiant sensitivity from 780 to 1050 nm, low dark current of 1 nA, and 950 nm wavelength of peak sensitivity.



The VSMB10940X01/VEMD10940FX01 and VSMB11940X01/VEMD1194FX01 provide a floor life of 168 hours and moisture sensitivity level (MSL) of 3 in accordance with J-STD-020. RoHS-compliant, halogen-free, and Vishay Green, the emitters and photodiodes support lead (Pb)-free reflow soldering.



Samples and production quantities of the new IR emitter/photodiode pairs are available now, with lead times of eight to 10 weeks. Pricing for U.S. delivery in 5,000-piece quantities starts at $0.07 per piece.



Vishay Intertechnology, Inc., a Fortune 1000 Company listed on the NYSE (VSH), is one of the world's largest manufacturers of discrete semiconductors (diodes, MOSFETs, and infrared optoelectronics) and passive electronic components (resistors, inductors, and capacitors). These components are used in virtually all types of electronic devices and equipment, in the industrial, computing, automotive, consumer, telecommunications, military, aerospace, power supplies, and medical markets. Vishay's product innovations, successful acquisition strategy, and "one-stop shop" service have made it a global industry leader. Vishay can be found on the Internet at www.vishay.com.



http://twitter.com/vishayindust

http://www.facebook.com/VishayIntertechnology



More from Communication Systems & Equipment