IPv4/6 Gigabit Ethernet Switch suits 3U VPX, OpenVPX(TM) platforms.
Press Release Summary: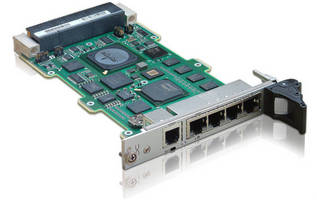 Kontron GbE Switch VX3910 includes 20 Gigabit ports to backplane, four 2.5 gigabit ports to backplane, and four 1000 Base-T uplinks on front panel. Non-blocking fully managed L2/L3 gigabit switch features AMCC PowerPC switch controller, and, for management and debug, EIA-232 ports on front panel that can also be routed to backplane. It is available in air-cooled version for temperatures from 0-55°C and in conduction-cooled unit for temperatures from -40 to +85°C.
---
Original Press Release:

High-Performance IPv4/IPv6 Kontron Gigabit Ethernet Switch



28 Gigabit Ethernet ports and comprehensive management features
for extremely rugged 3U system designs

Eching, Germany/Paris, France - The new Kontron Gigabit Ethernet Switch VX3910 offers 3U VPX (VITA 46.x) and OpenVPX(TM) (VITA 65) platforms Enterprise-Class Switching functionality with a total of 28 Gigabit Ethernet ports and advanced management features. With its implemented Kontron Embedded Network Technology, which offers the same advanced feature set and operational interfaces across multiple form factors, it simplifies IPv4/v6 inter-and intra-platform networking, reducing both time-to-market and development efforts for open application-ready and long-term available COTS platforms.

The non-blocking fully managed L2/L3 Gigabit Switch Kontron VX3910, with its 20x Gigabit ports to the backplane offers the highest port density for the implementation of various network topologies in 3U appliances. Four additional 2.5-Gigabit ports to the backplane simplify a redundant system architecture with multiple switches with no single point of failure. The four 1000 Base-T uplinks on the front panel, one dedicated for out-of-band management, expand the range to a total of 28 ports. The new Kontron Gigabit Ethernet Switch VX3910 is available in an air-cooled version for ambient temperatures from 0°C to +55°C and in a rugged conduction-cooled version for the extended temperature range from -40°C to + 85°C.

The Kontron VX3910 allows flexible implementation of network-centric situational-awareness and High Performance Embedded Computing (HPEC) applications in markets including military, medical, energy, and in autonomous systems such as UAVs and AUVs. Also, complex Vetronics applications (Vehicle Electronics), extremely rugged embedded multiprocessing systems, as well as Rapidly Deployable Networks in VPX and mixed VPX/VME environments are among the target applications.

The Kontron Gigabit Ethernet Switch VX3910, with its single-chip Broadcom switching solution offers an unparalleled price/performance ratio. Equipped with an AMCC PowerPC switch controller and individually customizable software environment and comprehensive firmware, it is flexibly configurable to the individual needs of customer specific installations.

The Kontron VX3910 supports all relevant standards, such as L2 and optional L3 switching, including extensive VLAN support with VLAN tagging (IEEE 802.3ac), dynamic VLAN registration with GARP/GVRP (IEEE 802.1Q) and Protocol based VLANs (IEEE 802.1v) as well as QoS (IEEE 802.1p). It also supports numerous optional routing protocols such as OSPFv2, RIPv2, VRRP, VLAN routing and DHCP relay for an accessible network of different network segments.

Highest availability is guaranteed through in- and out-of-band management via SNMP, Telnet and command line interface via the frontside 10/100/1000BASE-T (RJ-45) ports. Also available for management and debug are the EIA-232 ports on the front panel, which can also be routed to the backplane. Two master/slave capable I²C buses allow communication with VPX System Monitoring Boards (SMB).

The Kontron Gigabit Ethernet Switch VX3910 is available now. It represents a new member of the highly successful family of Kontron embedded switching products with implemented Kontron Embedded Network Technology. The Kontron Embedded Network Technology provides unified, advanced features and operational interfaces across multiple form factors including ATCA®, MicroTCA®, CompactPCI®, VME and now also VPX/OpenVPX(TM). This enables OEMs to efficiently re-use their switching expertise, improving time-to-market and total-cost-of-ownership. Kontron Embedded Switches are designed for maximum ease of use and support easy configuration and operation in the field.

For additional information about the Kontron Switch VX3910, please visit: www.kontron.com/products/boards+and+mezzanines/vpx/vx3910.html

For additional information about VPX, please see: www.kontron.com/technologies/vpx/

For additional information about rugged COTS, please see: www.kontron.com/COTS

About Kontron

Kontron, the global leader of embedded computing technology, designs and manufactures embedded and communications standards-based, rugged COTS and custom solutions for OEMs, systems integrators, and application providers in a variety of markets. Kontron engineering and manufacturing facilities, located throughout Europe, North America, and Asia-Pacific, work together with streamlined global sales and support services to help customers reduce their time-to-market and gain a competitive advantage. Kontron's diverse product portfolio includes: boards & mezzanines, Computer-on-Modules, HMIs & displays, systems & platforms, and rugged & custom capabilities. Kontron is a Premier member of the Intel® Embedded Alliance and has been a VDC Platinum Vendor for Embedded Computer Boards 5 years running. Kontron is listed on the German TecDAX stock exchange under the symbol "KBC". For more information, please visit: www.kontron.com

Contact Details

EMEA

Norbert Hauser

Kontron

Tel: +49 (8341) 803-0

norbert.hauser@kontron.com

Americas

Richard Pugnier

Kontron

Tel:+1 (858) 623-3006

richard.pugnier@us.kontron.com

More from Materials