Interface Module connects USB to GPIB.
Press Release Summary: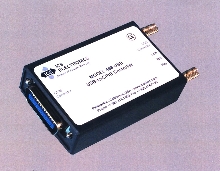 Model 488-USB converts desktop or portable PCs with USB interface into full-function, IEEE 488.2 GPIB compatible bus controller. Module plugs onto any open GPIB connector, such as open end of cable stack, on back of instrument, or unused connector on company's GPIB BusStrip(TM). Finger size jackscrews secure and hold module in any position. Applications include controlling instruments, collecting data, and running test programs.
---
Original Press Release:

New USB to GPIB Controller Module


PLEASANTON, CA, February 15, 2002. Today ICS Electronics announced a new USB to GPIB Controller Module for controlling test instruments. Designated the Model 488-USB, this new module converts any desktop or portable PC with a USB interface into a full-function, IEEE 488.2 compatible Bus Controller. Applications include controlling instruments, collecting data and running test programs.

The 488-USB Controller is a small module that plugs onto any open GPIB connector. The open GPIB connector can be the open end of a cable stack, on the back of an instrument or an unused connector on ICS's GPIB BusStrip(TM). Finger size jackscrews secure and hold the 488-USB module in any position.

Three LEDs provide visual status and diagnostic help for troubleshooting system problems. The 488-USB Module is a Plug&Play device and is extremely simple to install.

The 488-USB's 488.2 Driver supports Windows 98, ME, 2000 and Windows XP operating systems and Windows programming languages like Visual Basic and Visual C/C++. The 488.2 Driver provides all of the required 488.2 command and controller protocols. The Release 1 version of the Driver supports the National Instruments' 488.2 and original 488 command sets plus ICS' s command set. It will run Visual Basic and C/C++ language programs written for either command set. The Release 2 version of the Driver will add VISA compatibility to run LabVIEW(TM) and Agilent VEE(TM) programs.

The 488-USB includes an enhanced version of ICS's Keyboard Controller program for Windows 2000 and Windows XP. The Keyboard Controller program provides interactive control of GPIB devices from the computer keyboard without the user having to write a program. The Keyboard Controller program is the ideal utility program for testing the 488-USB Controller, for exercising GPIB devices or for trying out device commands before using them in a program.

Delivery is stock to 3 weeks ARO. Prices start at $395.00 each and include documentation and example programs. There is a $50 promotional discount until Release 2 is available.

ICS Electronics is a pioneer and leader in the design and development of IEEE 488 Bus support products and VXIbus products. The ICS has been supplying GPIB Controllers for over 20 years and the 488-USB is the first in a series of USB products.

Trademarks: LabVIEW is a trademark of National Instruments, Austin, Texas VEE is a trademark of Agilent Instruments, Palo Alto, California BusStrip is a trademark of ICS Electronics, Pleasanton, California


More from Electronic Components & Devices