Indium Corporation Features Metal Thermal Interface Materials for Burn-in and Test at TestConX Workshop 2019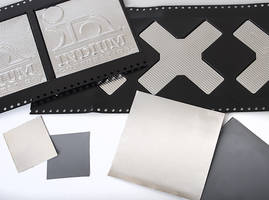 Indium Corporation will feature its metal thermal interface materials for burn-in and test, including HSK patterned Heat-Spring® and HSMF-OS, at TestConX on March 3-6 in Mesa, Ariz.
A pure indium Heat-Spring® in the HSK pattern can be clad on one side with a thin layer of aluminum, which will prevent the indium from sticking to the device under test (DUT). Due to the thinness of the aluminum, it has minimal impact on the thermal conductivity of the indium. 
HSMF-OS has a multi-layer construction with a total thickness of 0.004" that is designed for multiple insertions. It has an aluminum layer that acts as an interface with the DUT and has a tensile strength of approximately 90 MPa with a soft, compliant polymer backing. This unique construction results in a configuration with "designed-in" insertion survivability.
To learn more about Indium Corporation's metal thermal interface materials for burn-in and test, visit www.indium.com/BiTS.
Indium Corporation is a premier materials manufacturer and supplier to the global electronics, semiconductor, thin-film, and thermal management markets. Products include solders and fluxes; brazes; thermal interface materials; sputtering targets; indium, gallium, germanium, and tin metals and inorganic compounds; and NanoFoil®. Founded in 1934, the company has global technical support and factories located in China, Malaysia, Singapore, South Korea, the United Kingdom, and the USA.
For more information about Indium Corporation, visit www.indium.com or email [email protected]. You can also follow our experts, From One Engineer To Another® (#FOETA), at www.facebook.com/indium or @IndiumCorp.
Contact:
Anita Brown, Corporate Communications
Indium Corporation
tel: +1.315.381.7524
34 Robinson Road
Clinton, NY 13323 USA
www.indium.com