Inclination and Tilt Sensors prevent heavy equipment from tipping.
Press Release Summary: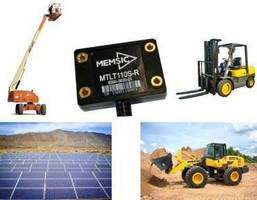 As IP67-rated inclinometers with integrated RS-232 interface and flying lead cable, MTLT series operates from single 9–32 V supply and utilize MEMS sensors, over temperature calibration, and SmartSensing™ technology. Programmable tilt alarms, also included, can be used to lock out controls or trigger alarm or warning light. Respectively, models MTLT105S and MTLT110S are designed for applications needing <0.5° and <1.0° accuracy over full operating temperature range.
---
Original Press Release:

MEMSIC INC Announces New "MTLT" Family of Inclination and Tilt Sensors



MEMS Sensors and SmartSensing™ Technology Help Prevent Heavy Equipment from Falling Over



Andover, Massachusetts – MEMSIC Inc., a leading sensing solutions provider, today announced the launch of a new product family, the MTLT series of Inclination and Tilt Sensors.  Samples of the first three family members in MTLT series, the MTLT110S-R, MTLT105S-R and MTLT105D-R are currently available for evaluation.



The MTLT family of tilt sensors are appropriate for a wide range of static and dynamic applications in construction and industrial markets such as boom tilt monitoring, bucket loader roll back protection, PV/CSP solar tracking systems and others.



All three products are IP67 rated inclinometers with an integrated RS-232 interface and flying lead cable operating from a 9 V to 32 V single supply. The MTLT105S and MTLT110S are designed for applications needing < 0.5 degree and < 1.0 degree accuracy, respectfully, over the full operating temperature range.



"Vibration and vehicle motion have caused problems for inclinometers for years, forcing customers to either sacrifice response time by heavily filtering the output of a static inclinometer or buy more expensive IMU solutions with more capability than they need," said James Fennelly, MEMSIC Product Marketing Manager. "The MTLT105D gives customers a new cost effective choice that does not sacrifice response time."



The MTLT sensors also include programmable tilt alarms for tilt safety applications. The alarm can be programmed to be triggered to activate when the tilt exceeds a specified threshold. The tilt alarm can also be used to lock out controls or trigger an alarm or warning light. It is an all-in-one tilt safety solution eliminating the need for an external microprocessor to interpret tilt angles.



The MTLT family achieves the best price and performance by utilizing Micro Electro-Mechanical System (MEMS) sensors, extensive over temperature calibration, and MEMSIC's SmartSensing™ technology that was recently developed and deployed in MEMSIC's industry leading Inertial Measurement Units (IMU) and Attitude Heading Reference Systems (AHRS) products.  SmartSensing™ technology provides users with unmatched sensor fusion and performance in critical motion sensing applications. Each unit is fully calibrated over temperature providing confidence in safety applications.



MTLT samples are available to qualified customers for evaluation. Designers can evaluate and log data using MEMSIC's NavView Software, available for download from www.memsic.com/tilt-sensors.



Datasheets are available by contacting MEMSIC at Info@Memsic.com.



More about MEMSIC

MEMSIC Inc., headquartered in Andover, Massachusetts, provides advanced semiconductor sensors and multi-sensor system solutions based on micro-electromechanical systems (MEMS) technology and sophisticated integration technologies in both the IC level and module level. MEMSIC's unique and proprietary approach combines leading-edge sensor technologies, such as magnetic sensors, accelerometers, flow sensors and current sensors with mixed-signal processing circuitry to produce reliable, high quality, cost-effective solutions for the mobile phone, automotive, consumer, industrial, medical and general aviation markets.



FOR MORE INFORMATION



MEMSIC Inc.

One Tech Drive

Suite 325

Andover, MA 0180

Tel: 978-738-0900

Fax: 978-738-0156

Email: info@memsic.com 

www.memsic.com/Tilt-Sensors



Mark Shapiro

SRS Tech PR - "Media Relations for the Connected World"

mshapiro@srs-techpr.com

+ 1 619 249 7742

Twitter - @SRSTechPR

http://www.linkedin.com/in/markrshapiro/

LinkedIN articles https://www.linkedin.com/today/author/475028

Google Plus - https://plus.google.com/+MarkShapiroSRSTech

More from Agricultural & Farming Products