IGBT Power Modules target TIG welding machines.
Press Release Summary: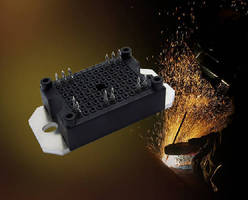 Built on proprietary Trench PT IGBT technology, half-bridge Models VS-GP100TS60SFPbF, VS-GP300TD60S, and VS-GP400TD60S and single-switch Model VS-GP250SA60S provide extremely low collector-to-emitter voltages down to 1.10 V and turn-off switching energy down to 11 mJ for output inverter stages. RoHS-compliant modules feature operating frequencies to 1 kHz and continuous collector current from 100–400 A. Mounting directly to heatsinks, devices offer low EMI to minimize snubbing requirements.
---
Original Press Release:

Vishay Intertechnology IGBT Power Modules Increase Efficiency and Reduce Conduction Losses in TIG Welding Machines



Built on Trench PT IGBT Technology, Half-Bridge and Single-Switch Devices Offer Low VCE(ON) and Eoff for High-Current Inverter Stages



MALVERN, Pa. – Vishay Intertechnology, Inc. (NYSE: VSH) today introduced four new half-bridge and single-switch IGBT power modules designed specifically for TIG welding machines. Built on Vishay's proprietary Trench PT IGBT technology, the VS-GP100TS60SFPbF, VS-GP250SA60S, VS-GP300TD60S, and VS-GP400TD60S provide extremely low collector-to-emitter voltages down to 1.10 V and turn-off switching energy down to 11 mJ for output inverter stages.



With their Trench PT IGBT construction, the Vishay Semiconductors devices released today achieve a smaller size than planar IGBTs, providing designers with higher current density and lower thermal resistance (junction-to-case) without compromising on performance. The devices' low collector-to-emitter voltage enables extremely low conduction losses, while their turn-off switching energy is 50 % lower than previous-generation devices for increased efficiency and long-term reliability.



The half-bridge VS-GP100TS60SFPbF, VS-GP300TD60S, and VS-GP400TD60S combine Trench PT IGBTs with HEXFRED® and FRED Pt® anti-parallel diodes in the INT-A-PAK package and dual INT-A-PAK package with an extremely low profile of 17 mm. The single-switch VS-GP250SA60S features the SOT-227 package, provides very low stray inductance of ≤ 5 nH typical, and is UL-approved file E78996.



The RoHS-compliant modules feature operating frequencies to 1 kHz, 600 V collector-to-emitter voltages, and continuous collector current from 100 A to 400 A. The devices can be directly mounted to heatsinks and offer low EMI to reduce snubbing requirements.



Device Specification Table:


| | | | | |
| --- | --- | --- | --- | --- |
| Part # | VS-GP100TS60SFPbF | VS-GP250SA60S | VS-GP300TD60S | VS-GP400TD60S |
| IC | 100 A | 250 A | 300 A | 400 A |
| VCE(ON) | 1.16 V | 1.10 V | 1.30 V | 1.30 V |
| Package | INT-A-PACK | SOT-227 | DIAP, low profile | DIAP, low profile |
| Eoff | 15.3 mJ | 11 mJ | 33 mJ | 45 mJ |
| Circuit | Half bridge | Single switch | Half bridge | Half bridge |
| IGBT | Trench PT | Trench PT | Trench PT | Trench PT |
| Diode | FRED Pt | None | HEXFRED | HEXFRED |



Samples and production quantities of the new IGBT power modules are available now, with lead times of eight to 10 weeks for larger orders. Pricing for U.S. delivery only starts at $9.10 for the VS-GP250SA60S, $34.50 for the VS-GP100TS60SFPbF, $68 for the VS-GP400TD60S, and $63.20 for the VS-GP300TD60S.



Vishay Intertechnology, Inc., a Fortune 1000 Company listed on the NYSE (VSH), is one of the world's largest manufacturers of discrete semiconductors (diodes, MOSFETs, and infrared optoelectronics) and passive electronic components (resistors, inductors, and capacitors). These components are used in virtually all types of electronic devices and equipment, in the industrial, computing, automotive, consumer, telecommunications, military, aerospace, power supplies, and medical markets. Vishay's product innovations, successful acquisition strategy, and "one-stop shop" service have made it a global industry leader. Vishay can be found on the Internet at www.vishay.com.



HEXFRED and FRED PT are registered trademarks of Vishay Intertechnology.



Link to Datasheet:

http://www.vishay.com/ppg?95721  (VS-GP100TS60SFPbF)

http://www.vishay.com/ppg?95766  (VS-GP250SA60S)

http://www.vishay.com/ppg?95767  (VS-GP300TD60S)

http://www.vishay.com/ppg?95768  (VS-GP400TD60S)

More from Material Handling & Storage