HTSX Thermal Interface Material is compliant to RoHS-2 standards.
Press Release Summary: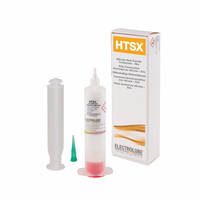 Operated in -50°C to +200°C temperature range, HTSX Silicone Thermal Interface Material offers thermal conductivity of 1.58 W/mK (guarded hot plate) and 1.05 W/mK (heat flow). Used as heatsinks or as thermal gap filler for dissipating heat between electronic devices, HTSX is offered in 35 ml syringe and 830 g cartridge.
---
Original Press Release:
Electrolube Unveil Advanced Thermal Management Solutions at Productronica Hall A4, Stand 466
Renowned for innovative new product launches, the global electro-chemicals manufacturer, Electrolube will introduce the new HTSX range of extremely high performance thermal interface materials at Productronica this year, alongside a new ultra-thin liquid gap filling material, called GF300UT.
Developed to perform in more extreme conditions than its sister product, the Silicone Heat Transfer Compound (HTS), HTSX is a silicone thermal interface material, which exhibits higher thermal conductivity, extended operating temperatures and excellent stability with a significantly reduced oil bleed. HTSX is RoHS-2 compliant and as a non-curing thermal paste, it is easy to apply and rework if necessary. It is ideal for use on heatsinks or as a thermal gap filler between components to dissipate heat away from the electronic device and can be used in a wide range of industry applications. HTSX has a high thermal conductivity of 1.58 W/mK (guarded hot plate) and 1.05 W/mK (heat flow) with a wide operating temperature range between -50°C to +200°C. The HTSX range is recommended where the efficient and reliable thermal coupling of electrical and electronic components is required and between any surface where thermal conductivity or heat dissipation is important. The material is available in 35ml syringe and 830g cartridge for ease of application.
An additional innovative new development featuring at the show is the highly thermally conductive GF300UT ultra-thin liquid gap filling product. The two-part product is a silicone base gap filling material, which provides excellent thermal performance, long term reliability and compliance. GF300UT has a wide operating temperature of -50°C to +200°C and can cure at room temperature, or can be accelerated with the addition of heat. The material provides very high thermal conductivity of 3.0 W/mK and is different from conventional gap filling materials, achieving very low bond line thickness of 0.035mm, which gives it lower thermal resistance. With excellent thixotropic performance and low viscosity, GF300UT enables ease of dispensing, screen-printing and stencil-printing. GF300UT After curing, the RoHS-2 compliant liquid gap filling product also forms a low modulus elastomer to eliminate pump-out. Typical applications for the GF300UT include automotive electronics, computers, semiconductors, telecommunications, LEDs and Integrated Gate Bipolar Transistors (IGBT).
A full range of heat transfer products, as well as conformal coatings, resins, cleaning solutions and contact lubricants, are available from Electrolube. Visitors to the show are warmly invited to meet the team in Hall A4, stand 466, and present their application and product issues to Electrolube's electro-chemical experts. For more information, please go to www.electrolube.com
About Electrolube
Electrolube, a division of H.K. Wentworth Limited, is a leading manufacturer of specialist chemicals for electronics, automotive and industrial manufacturing. Core product groups include conformal coatings, contact lubricants, thermal management materials, cleaning solutions, encapsulation resins and maintenance and service aids.
The extensive range of electro-chemicals at Electrolube enables the company to offer a 'complete solution' to leading manufacturers of electronic, industrial and domestic devices, at all levels of the production process. Through collaboration and research, the company is continually developing new and environmentally friendly products for customers around the world and their commitment to developing 'greener' products has been endorsed by the ISO 14001 standard for the highly efficient Environmental Management System in place at the company.
Winners of the Queen's award for Enterprise 2016, Electrolube is represented in over 55 countries with an established network of subsidiaries and distributors. By offering genuine security of scale and a reliable supply chain, the company is able to deliver a truly tailored service.
More from Software