High Voltage Oscilloscope Probes support inputs up to 39 kV.
Press Release Summary: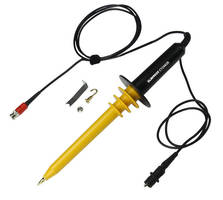 Elditest high voltage divider probes are designed for use with both digital and analog oscilloscopes. Respectively, models CT4024, CT2982B, CT4025, CT4026, and CT4028 feature max input voltage ratings of 8, 10, 10, 18, and 39Â kV and 40, 40, 120, 150, and 220 MHz bandwidth.
---
Original Press Release:

New Elditest High Voltage Oscilloscope Probes



Yorba Linda, CA – Today Cal Test Electronics introduced a new line of Elditest brand High Voltage Oscilloscope Probes. The line includes the following models:

CT2982B

CT4024

CT4025

CT4026

CT4028



The Elditest High Voltage Probes

The new Elditest probes are high voltage divider probes for use with both digital and analog oscilloscopes.



Five Probes to Choose From



Product Description

List Price



Model CT4024

The Elditest CT4024 features a max input voltage of 8 kV and a 40 MHz bandwidth.



Model CT2982B

The Elditest CT2982B features a max input voltage of 10 kV with a 40 MHz bandwidth.



Model CT4025

The Elditest CT4025 features a max input voltage of 10 kV and a 120 MHz bandwidth.



Model CT4026

The Elditest CT4026 features a max input voltage of 18 kV and a 150 MHz bandwidth.



Model CT4028

The Elditest CT4028 features a max input voltage of 39 kV and a 220 MHz bandwidth.



About Cal Test Electronics

Since 1995, Cal Test Electronics has been serving the electronic and electrical markets with an extensive line of quality test accessories and a commitment to total customer service. Offering the most comprehensive lines of test accessories, with over 3,000 items in 5 product categories, there is almost no test accessory challenge Cal Test cannot meet. If your requirement is for a custom component or kit, Cal Test currently supplies custom assemblies and kits to several of the largest instrument manufacturers in the world. We want to be your accessory supplier of choice.



Contact:

Geisa Mello

VP of Sales & Marketing

gmello@caltestelectronics.com

More from Cleaning Products & Equipment