High-Temperature White Coating suits applications to 1,500°F.
Press Release Summary: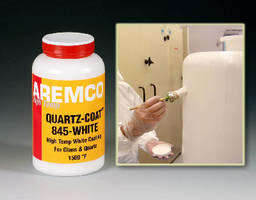 Consisting of single-part, waterborne, inorganic coating, Ceramacoat™ 845-WHT bonds well to glass and quartz components in applications to 1,500°F. Odorless product is formulated to viscosity range of 400–700 cP with solids content of 41.3% by weight and 22.9% by volume, and density of 1.80–1.85 g/cc. Applied by dipping or pneumatic spray equipment, coating has typical dry film thickness of less than 0.001 in. After curing, film is abrasion and moisture resistant, with no outgassing.
---
Original Press Release:

CeramacoatTM 845-WHT High Temp White Coating Now Available



Ceramacoat™ 845-WHT, a new high temperature white coating developed by Aremco Products, Inc., is now used to coat glass and quartz components used in automotive, process heating and semiconductor industries for applications to 1500°F (816 ºC).



Ceramacoat™ 845-WHT is a single part, odorless, waterborne, inorganic, and white-pigmented coating which bonds exceptionally well to glass and quartz components for applications to 1500 ºF (816 ºC).



Ceramacoat™ 845-WHT is formulated to a viscosity range of 400–700 cP (centipoises), solids content of 41.3% by weight and 22.9% by volume, density of 1.80–1.85 g/cc, and pH of 1.5–2.5. The theoretical dry film coverage at 0.001" is 389 ft2/gal (9.6 m2/ltr).



Ceramacoat™ 845-WHT is applied easily by dipping or using conventional pneumatic spray equipment, and the typical dry film thickness is less than 1.0 mil (0.001"). Curing is accomplished rapidly by setting at room temperature for 10 minutes, and heating to 200 ºF for 10 minutes and 900 ºF for 5 minutes. After curing, the film is very abrasion and moisture resistant, and no outgassing will occur, even at high temperatures.



Ceramacoat™ 845-WHT is available in pint, quart and gallon containers. Please contact Aremco's Technical Sales Department for more details about this advanced new coating.



Technical technical@aremco.com

Orders orders@aremco.com

Pricing quotes@aremco.com

MSDS msds@aremco.com

More from Paints & Coatings