High-Temperature Adhesive bonds dissimilar materials.
Press Release Summary: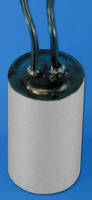 Resistant to corrosion, chemicals, thermal shock, and electricity, Resbond™ S5H13 suits adhesive applications up to 500°F. Epoxy bonds heavy plastic to stainless steel; seals and insulates Bi-Polar, Electro-Cauterizers; and withstands thousands of steam sterilization cycles at 375°F. Adhering to metals, plastics, composites, glass, and ceramics, paste cures at room temperature and exhibits 1.9 gms/cc density, 80 Shore D hardness, and 10,000 psi tensile strength.
---
Original Press Release:

Resbond(TM) S5H13 Adhesive Bonds Dissimilar Materials for High Temperature Corrosive Environments up to 500°F



Specially formulated Resbond™ S5H13 has excellent high temperature resistance to corrosion, all common chemicals, thermal shock and electricity. It's the ideal epoxy for bonding dissimilar materials in any high temperature, high performance adhesive application up to 500°F.



Resbond™ S5H13 bonds heavy plastic to stainless steel, seals and insulates Bi-Polar, Electro-Cauterizers and withstands thousands of successful steam sterilization cycles at 375°F.



Applications include high performance bonding, potting, sealing and coating in instrumentation, medical devices, critical aerospace, automotive and electronics.



Resbond™ S5H13 has excellent adhesion to metals, plastics, high performance composites, glass, ceramics and cures at room temperature. Resbond™ S5H13 is easy to use, just mix 2-part components and apply. Available in pint and gallon size kits.



Physical Properties

Max. Use Temperature: 500°F

Components: 2

Mix Ratio (by weight): 100:13

Viscosity: Paste

Density: 1.9 gms/cc

Hardness: 80 Shore D

Tensile Strength: 10,000 psi

Elongation: 2%

Shrinkage: 0.2% max.

Moisture Absorption: 0.05% (30 days @ 50C)

Thermal Conductivity: 13 BTU in/hr. °F ft.²

Thermal Expansion: 6.4 10-5/oC

Volume Resistance: 1011 ohm-cm

Dialectric Strength: 500 volts/mil



Availability:


| | | |
| --- | --- | --- |
| Cat. No. | Description | Size |
| S5H13-1 | Resin and hardener | Pint Kit |
| S5H13-2 | Resin and hardener | Gallon Kit |



For more information write, call, fax or visit: www.cotronics.com.



COTRONICS CORPORATION

131 47th Street

Brooklyn, NY 11232

Tel: 718-788-5533

Fax: 718-788-5538

Email:

[email protected]



Web: www.cotronics.com