High Strength Epoxies for Plastic Bonding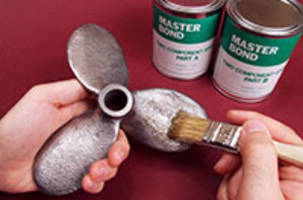 Lap shear strength is one of the most common stresses that a bonded joint can face, especially in structural bonding applications. It is tested by measuring the ability of an adhesive system to withstand stresses set in a plane, where the exerted shear force is moving the two substrates in opposite directions. This article evaluates select Master Bond epoxies that were recently tested for their lap shear strengths on a variety of plastic substrates.
Read More: http://click.skem1.com/click/gotxr-ax9v0f-13mg5461/
EP21ARHT: Epoxy Offers Superior Acid Resistance
EP21ARHT combines high temperature resistance with an impressive ability to withstand exposure to a variety of acids and other chemicals. It is especially noteworthy for its resistance to sulfuric and hydrochloric acids. This two part, 100% reactive epoxy is especially useful for coating tanks, pipes, scrubbers and other types of chemical processing equipment. It also features minimal linear shrinkage upon cure. This low viscosity system has a convenient two to one mix ratio by weight and cures at ambient temperatures.
For more information, request a technical data sheet on EP21ARHT: http://click.skem1.com/click/gotxr-ax9v0h-13mg5463/
EP29LPSP: Resists Cryogenic Temperatures Down to 4K
Serviceable from 4K to +275°F [4K to +135°C], EP29LPSP is a two part epoxy for bonding, sealing and coating that also meets NASA low outgassing standards. It is capable of withstanding cryogenic shocks (room temperature to liquid helium in a 5 to 10 minute time period). This optically clear system offers excellent electrical insulation properties, with a volume resistivity greater than 1015 ohm-cm. It has a low mixed viscosity of 500-1,500 cps and is frequently employed in potting and casting applications.
For more information, request a technical data sheet on EP29LPSP: http://click.skem1.com/click/gotxr-ax9v0j-13mg5465/
EP21LV: Low Viscosity System Is Ideal for Potting and Encapsulation
EP21LV is a low viscosity epoxy for high performance bonding, sealing, coating, encapsulation and casting. Mixed viscosity is 10,000-13,000 cps. Shore D hardness is greater than 70. This two part system produces high strength, durable bonds which hold up well to thermal cycling and resist many chemicals. EP21LV meets FDA Chapter 1, Section 175.105 requirements for indirect food contact.
For more information, request a technical data sheet on EP21LV: http://click.skem1.com/click/gotxr-ax9v0l-13mg5467/
EP42HT-2: Outstanding Resistance to Steam and Chemical Exposure
With remarkable heat resistance to 450°F, EP42HT-2 is a room temperature curable, two component epoxy adhesive, sealant, coating and casting material. It is resistant to a wide variety of acids, bases, solvents, fuels, oils and salts. This system has superior optical transmission properties, particularly in thinner sections, as well as a high index of refraction for an epoxy. It is solvent free and can be cast in sections up to 2-3 inches thick. EP42HT-2 also has superior electrical insulation characteristics.
For more information, request a technical data sheet on EP42HT-2: http://click.skem1.com/click/gotxr-ax9v0n-13mg5469/
Master Bond
Website:www.masterbond.com
Email:newsletters@masterbond.com
Phone:+1 201 343 8983
Master Bond
154 Hobart Street
Hackensack, New Jersey 07601 United States
More from Adhesives & Sealants