Handheld Oscilloscope/Multimeter samples at 500 MSa/s.
Press Release Summary: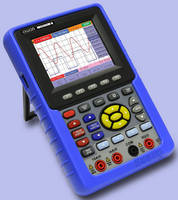 Combining 100 MHz, 2-channel oscilloscope and 3¾ digit multimeter, HDS3102MN comes in impact-resistant casing with 640 x 480 LCD and silica gel keys. USB connection facilitates storing or printing displayed waveforms, and Auto-Set feature enables automatic display and measurement of signals. In addition to FFT spectrum display capability, product offers multiple waveform math functions as well as advanced functions such as stable scope triggering, digital persistence, and averaging.
---
Original Press Release:

Saelig Debuts 100MHz Handheld Oscilloscope



Pittsford, NY, USA: Saelig Company, Inc. announces the availability of HDS3102MN - a new, rugged 100MHz two-channel handheld oscilloscope and 3¾ digit multimeter with FFT spectrum display capability, perfect for any engineer's toolkit. A USB connection makes storing or printing the displayed waveforms easy too. HDS3102MN features a rugged impact resistant casing, easy- to-use controls, and a high-brightness 640¡¿480 LCD display. Battery life is an exceptional 6 hours.

User-friendly silica gel keys offer shortcuts for simplified operation of this sophisticated portable scope, which features advanced functions such as: advanced stable scope triggering in Free Run, Single shot, Edge, and Video modes, Digital Persistence to observe slow-moving signals (1 sec, 2 sec, and 5 sec, infinite), averaging to reduce noise. The Auto-Set feature lets the Oscilloscope display and measure signals automatically, optimizing the position, range, time base, and triggering to assure a stable display of virtually any waveform. Waveform math functions include: +, -, X, Divide, Invert, and FFT. The sophisticated FFT feature provides four window function choices for optimum signal frequency display to 100MHz (Rectangular/Hamming/Hanning/Blackman-Harris). Twenty types of measurements can be made completely automatically (Vpp, Vavg, RMS, Frequency ,Period, Vmax, Vmin, Vtop, Vbase, Width, Overshoot, Preshoot, Risetime, Falltime, +Width, - Width, +Duty, -Duty, Delay A-B rising, Delay A-B falling).

True RMS multimeter measurements include: Volts, Amps, Ohms, Continuity, Resistance, Capacitance, Diode, with separate inputs for multimeter and oscilloscope signals. Sampling at 500 MSa/s, HDS3102MN offers. HDS3102MN is powered by an internal 6 hour capacity rechargeable, replaceable Li-ion battery. The 3.8", 65535 colors TFT color LCD makes waveforms or meter reading clear even in daylight. HDS3102MN also provides a useful 1KHz/5V square-wave test signal. Onboard storage is provided for up to 4 waveforms, and a USB port allows storage of waveforms too.

Weighing under 2 lbs, the 7" x 4.5" x 1 6" HDS3102MN is supplied in a rugged metal carrying case, and comes with a generous array of standard accessories: two x1/x10 passive oscilloscope probes, a pair of multimeter test leads, USB connection cable, 110V charging adapter, user manual and CD.

HDS3102MN offers unbeatable value for the money and is available now from $799.00 from Saelig Company Inc. Pittsford NY. For detailed specifications, free technical assistance, or additional information, please contact Saelig (toll-free in the US) 1-888- 7SAELIG, via email: info@saelig.com, or visit www.saelig.com

Direct Link: www.saelig.com/pr/hds3102mn.html

Contact Information
email: info@saelig.com
phone / fax: 585-385-1750 / 585-385-1768
web: www.saelig.com

More from Packaging Products & Equipment