Glass Sealant works in applications up to 1,500°F.
Press Release Summary: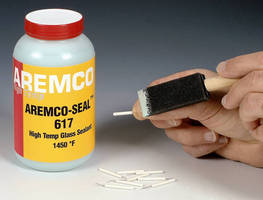 Applied by dipping, brushing, or spraying, Aremco-Seal™ 617 single-part, water-based, glass coating is used to produce hermetic seals in porous ceramics and refractories in electrical and high-vacuum applications. Cure is accomplished by drying 200°F for 30 min, 350°F for 60 min, and final curing at 1,650°F for 3–5 min. Odorless sealant cleans up prior to curing with warm water and does not contain any VOCs. No outgassing will occur upon curing or during operation.
---
Original Press Release:

Aremco-Seal 617 High Temp Glass Sealant Now Available



Aremco-Seal™ 617, a new high temperature glass sealant developed by Aremco Products, Inc., is now used to produce hermetic seals in porous ceramics and refractories for applications to 1500 oF (816 °C).



FEATURES



Aremco-Seal™ 617 is a single part, water-based, glass coating used to seal porosity in ceramics and refractories to 1500 oF (816 °C) in electrical and high vacuum applications where hermetic seals are required.



Aremco-Seal™ 617 is easily applied by dipping, brushing, or spraying and cleans up prior to curing with warm water. Curing is accomplished by drying 200 oF for 30 minutes, 350 oF for 60 minutes, and final curing at 1650 oF for 3-5 minutes.



Aremco-Seal™ 617 is o1orless and contains no volatile organic compounds that may affect the environment. No outgassing will occur upon curing or during operation.



Aremco-Seal™ 617 is available from stock in standard pint, quart, gallon and five-gallon containers.



Please contact Aremco's Technical Sales Department for more information about this advanced product.



EMAIL US



Technical technical@aremco.com Orders orders@aremco.com

Pricing quotes@aremco.com MSDS msds@aremco.com

More from Paints & Coatings