Gas Standards Generator offers varied concentration, constant flow.
Press Release Summary: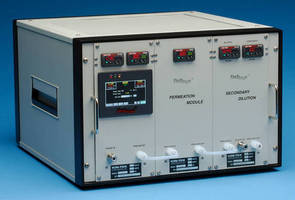 FlexStream(TM) Automated Permeation Tube System, combined with Secondary Dilution (SD) Module, creates variable concentration gas mixtures in constant output flow to facilitate test gas mixture production. Primary mixture concentration can be varied over 10:1 range in permeation unit, and adjustable aliquot of that mixture is added to constant dilution flow in SD module. Resulting concentration adjustability is over 100:1. Functionality accommodates contamination exposure applications.
---
Original Press Release:

Gas Standards Generator Gives Variable Concentration at Constant Flow



Applications:

Constant Flow Test Atmospheres

Odor Panel Studies

Multi-point Calibration of AMC Monitors

Sample Acquisition System Evaluation

Gas Standards Generator Gives Variable Concentration at Constant Flow

KIN-TEK's new FlexStream(TM) Automated Permeation Tube System combined with Secondary Dilution Module SD creates variable concentration gas mixtures in constant output flow. Many contamination exposure applications require a constant and often rather large flow of the test gas mixture. This FlexStream(TM) System simplifies production and reduces the cost of supplying the required test gas mixtures.

When using permeation tubes, mixture concentration is typically adjusted by varying dilution flow. Changing from 1ppm to 100ppb, for example, might require changing dilution flow from 500 cc/min to 5 l/min. This creates no problem so long as the dilution flow exceeds the minimum flow required for the application. But for applications with high minimum flow, the flow required to create even a 10X concentration reduction can be impractically large.

In the FlexStream(TM)/SD System, primary mixture concentration can be varied over a 10:1 range in the permeation unit. An adjustable aliquot of that mixture is added to a constant dilution flow in the SD module. The resulting concentration adjustability is over 100:1.

For more information, please write or call: KIN-TEK Laboratories, Inc., 504 Laurel, La Marque, TX 77568, Phone: (409) 938-3627, Fax: (409) 938-3710, www.kin-tek.com,
email: sales@kin-tek.com

More from Electronic Components & Devices