Gas Standards Generator deals with trace sulfur compounds.
Press Release Summary: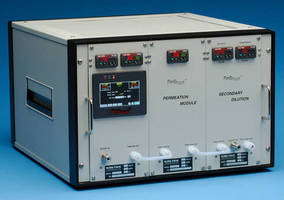 Offered as modular system, FlexStream(TM) uses Trace Source(TM) permeation tubes, which add precisely known concentrations of sulfur compounds to nitrogen, ethylene, or propylene matrix. It is configured with 2 permeation ovens and secondary dilution module for producing mixtures containing H2S, COS, and range of higher boiling sulfur compounds. Concentration can also be varied for multi-point calibration, and microprocessor system sets dilution flows and selects proper operating mode.
---
Original Press Release:

Standards for Trace Sulfur Compounds in Olefins



Applications:

Gas Standards for Trace Sulfur in Olefins

Trace concentration (ppm, ppb, pptr) gas mixtures

Kin-Tek's new FlexStream(TM) modular gas standards generating system uses Trace Source(TM) permeation tubes which add precisely known concentrations of sulfur compounds to nitrogen, ethylene or propylene matrix.

Typical polymerization processes require monomer with concentrations less than 1ppmw total sulfur, less than 1ppmw H2S and less than 50ppbw of COS. Calibration standards at those levels are not readily available and tend to be unstable in storage. Additionally, the presence of high quantities of olefin in the sample may affect sensitivity of the detector, so it is important to use standards in olefin matrix.

The FlexStream(TM) system configured with 2 permeation ovens and a secondary dilution module can produce mixtures containing H2S, COS, and a range of higher boiling sulfur compounds such as dimethyl sulfide and thiophene to assure good total sulfur accuracy. Concentration can be varied for multi-point calibration.

An internal microprocessor system sets dilution flows and selects the proper operating mode to create specified concentrations. Special flow system calibration, component selection and the capability to do dynamic standard additions insure exceptional accuracy with traceability to NIST through physical standards.

For more information, please write or call: KIN-TEK Laboratories, Inc., 504 Laurel, La Marque, TX 77568, Phone: (409) 938-3627, Fax: (409) 938-3710, www.kin-tek.com,
email: sales@kin-tek.com