Fast Curing Epoxy Assembly Adhesives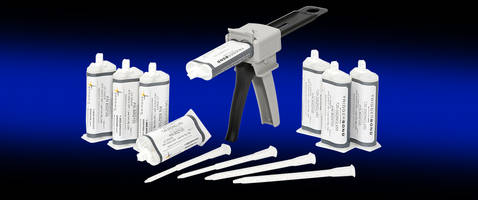 A series of fast curing thixotropic Epoxy Assembly Adhesives was developed by Epoxies, Etc. These non-sag epoxy adhesives offer manufacturers the ability to improve productivity due to their quick 5-46 minute set times.
10-3005 NS 5 Minute Set Epoxy
10-3020 NS 20 Minute Set Epoxy
10-3046 NS 46 Minute Set Epoxy
In addition to providing rapid assembly they also offer good water resistance, chemical resistance, and thermal shock protection. They are suitable for many bonding applications in the electronic, electrical, industrial, and decorative industries. These epoxy adhesives also meet Underwriter's Laboratory (UL) 94HB flame out test.
All three of the adhesives in this series have a convenient 1:1 by volume mix ratio. For ease of use these products are offered in the convenient TriggerBond® cartridge system.
Epoxies, Etc. has been formulating solutions for electronic circuitry and assemblies for over 25 years. Our chemists and engineers are able to provide specific application support. Technical Support can be reached by phone 401-946-5564 or sales@epoxies.com.
More information about the Fast Curing Epoxy Assembly Adhesives is available at http://www.epoxies.com/_resources/common/bulletins/10-3005NS.pdf
Samples are readily available.
Thank you for considering the release of the new Fast Curing Epoxy Assembly Adhesives as a New Product News Release in your publication.
More from Explosives, Armaments, and Weaponry