Etching Machine delivers CD uniformity of 1 nm across wafer.
Press Release Summary: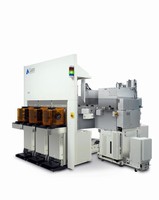 Addressing range of challenging etch applications, including high-k/metal gate, hardmask open, shallow trench isolation, and strained silicon, 2300® Versys® Kiyo3x Conductor Etch Series features wafer temperature control to enable radial tuning for edge control and profile shaping. It uses advanced pre-coat and post-etch chamber clean techniques. For complex film stacks such as high-k/metal gate, Kiyo3x provides multi-film etch capability in single chamber.
---
Original Press Release:

Lam Research Corporation Releases 2300® Versys® Kiyo3x Conductor Etch Series



Kiyo3x delivers CD uniformity of 1 nm, enabling advanced applications such as double patterning, and is available as a series of cost-effective upgrade options.

FREMONT, Calif., June 24, 2008 - Lam Research Corporation (NASDAQ: LRCX), a major supplier of semiconductor wafer fabrication equipment and services, today introduced the 2300 Versys Kiyo3x conductor etch series. Innovative Kiyo3x technologies deliver CD uniformity of 1 nm across the wafer, which provides enabling capability for managing the challenging CD and overlay budgets of emerging double patterning applications. Kiyo3x field-upgradeable options provide a flexible, cost-effective approach for addressing a rapidly diverging range of challenging etch applications, including high-k/metal gate, hardmask open, shallow trench isolation, and strained silicon.

"As the industry transitions to double patterning as a key enabler of advanced device scaling, etch plays an increasingly important role in pattern shrinking. With the Kiyo3x series, we have extended our market-leading conductor etch product family to provide better uniformity, productivity, and repeatability to enable a range of the most complex as well as emerging critical etch applications on our customers' technology roadmaps," said Richard A. Gottscho, Lam Research group vice president and general manager, Etch Businesses. "By providing these capabilities as a configurable set of upgrade options, we allow our customers to maximize the value of their capital investments."

As the third generation of the Kiyo(TM) product line, the new Kiyo3x series includes improvements in wafer temperature control that enable radial tuning for edge control and profile shaping. These improvements, coupled with enhanced reactor symmetry, result in CD uniformities of 1 nm, 3 sigma variation. With advanced, proprietary pre-coat and post-etch chamber clean techniques, every wafer sees the same environment for superior repeatability, as well as high uptime and yield. For complex film stacks such as high-k/metal gate, the Kiyo3x provides multi-film etch capability in a single chamber, which results in a 50-to-100 percent productivity advantage over a two-chamber approach.

Multiple Kiyo3x systems have been installed at major customer sites in regions worldwide to address a variety of emerging applications.

Lam Research Corporation, one of Fortune magazine's "100 Fastest-Growing Companies" in 2006 and 2007, is a major supplier of wafer fabrication equipment and services to the world's semiconductor industry and market share leader in plasma etch. Lam Research's common stock trades on The NASDAQ Global Select MarketSM under the symbol LRCX. Lam Research is a NASDAQ-100® company.

For more information, visit our web site at www.lamresearch.com.

Company Contact:
Jae Jun,
Product Communications,
phone: 510/572-5048,
e-mail: jae_yon.jun@lamresearch.com

More from Chemicals & Gases