Epoxy Adhesive offers impact and vibration resistance.
Press Release Summary: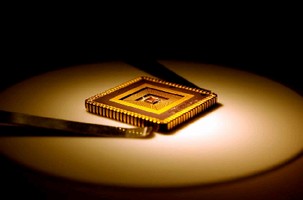 One-component, electrically conductive 40-3910 is formulated for electrical and mechanical bonding of semiconductor, capacitor, and resistor chips in micro and opto-electronic hybrid circuit fabrication. Product does not require dry ice during transit and cures quickly at low temperatures. It provides optimized retention of strength after environmental aging.
---
Original Press Release:

Epoxies, Etc... Develops New Electrically Conductive Epoxy Adhesive



PAUL C. HARRINGTON
TECHNICAL DIRECTOR

CRANSTON, RHODE ISLAND, USA

40-3910 is a new one component Electrically Conductive Epoxy Adhesive. This adhesive forms strong bonds while providing excellent impact and vibration resistance. 40-3910 is formulated for electrical and mechanical bonding of semiconductor, capacitor and resistor chips in micro and opto-electronic hybrid circuit fabrication.

40-3910 will have high reader interest due to its following features:
o One Component and therefore no mixing
o Does not require dry ice during transit
o Cures quickly at low temperatures
o Excellent electrical conductivity
o Excellent retention of strength after environmental aging

Small evaluation kits are available and may be requested from our website: www.epoxies.com

Related