Epoxy Adhesive meets NASA low outgassing specifications.
Press Release Summary: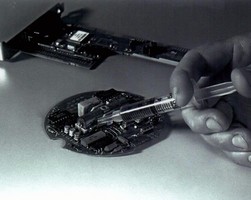 Formulated to setup in 3-5 min in 10-20 g masses at room temperature, EP65HT-1 ultra-fast curing, high temperature resistant epoxy adhesive bonds with metals, glass, ceramics, woods, vulcanized rubbers, and plastics. It has Shore D hardness of >75 and volume resistivity of >1014 ohm-cm. Mixed viscosity is 60-70,000 cps and mix ratio is 10 to 1 by weight. Available in pint, quart, gal, and 5 gal unit kits, EP65HT-1 has service operating temperature of -60 to +400°F.
---
Original Press Release:

New Ultra-Fast Curing Epoxy Adhesive



Master Bond Inc., Hackensack, N.J. has introduced a new ultra-fast curing, high temperature resistant epoxy adhesive called EP65HT-1. This compound is formulated to setup in 3-5 minutes in 10 to 20 gm. masses at room temperatures. Full cure normally occurs within a few hours with exceptionally high shear strengths approaching 3,000 psi. EP65HT-1 has a Tg of over 125°C. Typical fast curing epoxies normally possess glass transistion temperatures below 85°C. Service operating temperature range is -60°F to +400°F. Additionally EP65HT-1 is qualified to meet NASA low outgassing specifications.

Master Bond EP65HT-1 bonds well to a wide variety of substrates. Adhesion to metals, glass, ceramics, woods, vulcanized rubbers and most plastics is excellent. EP65HT-1 has superior electrical insulation properties. It also offers outstanding resistance to water and many chemicals.

EP65HT-1 has a Shore D hardness of >75. It's volume resistivity is >1014 ohm-cm. It has a dielectric constant at 75°F of 3.9. It's tensile modulus is 480,000 psi. The mixed viscosity of EP65HT-1 is 60-70,000 cps and its mix ratio is 10 to 1 by weight.
EP65HT-1 is available for use in pint, quart, gallon and 5 gallon unit kits. Dispensing of EP65HT-1 has been tremendously facilitated by the development of a dispensing gun capable of mixing fast setting materials with a 10 to 1 mix ratio.

For further information, please contact:
James Brenner Marketing Manager
154 HOBART STREET o HACKENSACK, NEW JERSEY 07601-3922 o TEL: 201-343-8983 o FAX: 201-343-2132 Visit our WEBSITE at http:/www.masterbond.com Or E-Mail us at Main@Masterbond.com

More from Paints & Coatings