Epoxy Adhesive contains no volatiles or hazardous solvents.
Press Release Summary: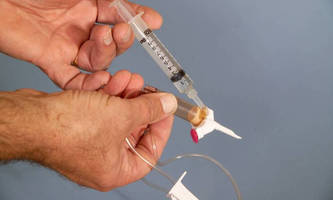 Exhibiting low shrinkage and offering Tg that exceeds 94°C, epoxy adhesive UV10TK40 offers tensile strength of 8,300 psi and shore D hardness greater than 75, forming high surface hardness. It cures tack free in presence of air and will gel rapidly upon UV light exposure. Environmentally-friendly and 100% reactive, UV cure adhesive is suited for clear coating, sealing and bonding, and any process that requires critical alignment or exact positioning.
---
Original Press Release:

UV Cure Adhesive Excels in Bond Strength



Hackensack, NJ. June 30, 2009- Master Bond adds a significant strength advantage to a new UV adhesive compound combining high strength bonds with the well established benefits of UV cure namely; high productivity, improved performance and environmental compliance. Master Bond UV10TK40 is a modified epoxy adhesive offering a unique tensile strength of 8300 psi and a shore D hardness greater than 75, forming high surface hardness. It cures tack free in the presence of air and will gel rapidly upon UV light exposure. This UV adhesive exhibits low shrinkage and superior dimensional stability. High performance properties include heat stability, good chemical resistance and a Tg that exceeds 94°C. 100% reactive and environmentally-friendly, it does not contain any volatiles and hazardous solvents. Master Bond UV cure adhesive UV10TK40 is recommended for clear coating, sealing and bonding and simplifies any process that requires critical alignment or exact positioning.

More about Master Bond's UV cure adhesives:

One part Light cure adhesive systems offer high performance coatings, adhesives, sealants, potting and encapsulation. They include polyurethanes, epoxies, polyesters and acrylics. They vary in thicknesses, hardness, chemical resistance, strength, clarity, etc. They have excellent bond strength to metals, ceramics, many plastics and most rubbers.

Read more about Master Bond's UV Curing Adhesives: www.masterbond.com/prodtype.html#puv

contact:

Sheila Frankel

Phone: +44-207-100-7251

Fax: 44-207-060-0628

E-mail: eutech@masterbond.com

Master Bond

154 HOBART STREET

HACKENSACK, NEW JERSEY 07601-3922

TEL: 201-343-8983

FAX: 201-343-2132

Visit our WEBSITE at http:/www.masterbond.com or E-Mail us at Main@Masterbond.com

Contact Person: Rachel Ruchama

Company Name: Master Bond Inc

Telephone Number: 44-207-100-7251

Fax Number: 44-207-060-0628

Email Address: rruchama@masterbond.com

Web site address: www.masterbond.com

More from Adhesives & Sealants