Encoder Input Module balances count rate and time resolution.
Press Release Summary: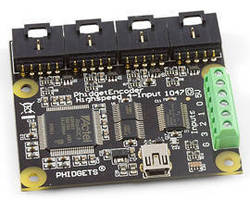 Able to be used with mechanical and optical encoders, 1047 - PhidgetEncoder HighSpeed 4-Input has max count rate of 250,000/sec and can read up to 4 encoders simultaneously with 1 µs time resolution. It is possible to enable some or all encoders, and device provides ability to time duration between group of quadrature changes. Min and Max current consumption rates for this plug-and-play device, with all channels respectively disabled and enabled, are 30 and 500 mA.
---
Original Press Release:

The New 1047 - PhidgetEncoder HighSpeed 4-Input has 1000 Times Higher Time Resolution than the 1057 - PhidgetEncoder HighSpeed (1-Input)



The Cost to the User is down to $25.00 CAD per Encoder.

CALGARY, Alberta - Phidgets Inc. released today the 1047 - PhidgetEncoder HighSpeed 4-Input which can read up to 4 encoders simultaneously with a 1µs time resolution.

"Very early into the design the new Encoder, we decided to set a maximum Count Rate of 250,000 with a time resolution of 1 micro second." says Chester Fitchett, CEO of Phidgets. "We believe that we have achieved the most useful balance between Count Rate and time resolution." added Chester.

The PhidgetEncoder Highspeed 4-Input can be used with a wide assortment of mechanical and optical encoders. The encoder should be of quadrature output type, indicating that there will be two quadrature output channels (usually labeled A and B) and a third output channel (only on some encoders) to signal when the index pin (a reference point for zero position or a complete revolution) has been reached.

The PhidgetEncoder Highspeed 4-Input is able to read four encoders simultaneously. Encoders are not powered up until all initialization of the device is complete. It is possible to enable some or all encoders, depending on how many of the channels are being used. This can also be used to reduce power consumption when certain encoders are not needed.

The PhidgetEncoder Highspeed 4-Input has the added ability to time the duration between a group of quadrature changes. The time is returned in microseconds. This time value can be used to calculate velocity and acceleration.

"At $60.00, the 1057 - PhidgetEncoder HighSpeed remains a good choice for users who want to control a single encoder. " says Bernard Rousseau, Director of Marketing.

Product Specifications
Encoder
Maximum Count Rate: 250,000 counts/second
Internal Output Pull-Up Resistance: 10 Kilo Ohms
Software Update Rate (typical): 8ms
USB Update Rate: 125 samples/second
Time Resolution: 1 µs
Current
Max Device Current Consumption (all channels enabled): 500 mA
Min Device Current Consumption (all channels disabled): 30 mA
Maximum Current Consumption per Encoder: 200 mA
Voltage
Min/Max USB Supply Voltage: 4.75 - 5.25 VDC
Encoder Input 0 Voltage: < 1.4 V
Encoder Input 1 Voltage: > 1.8 V

Software Environment
"Unlike a lot of our competitor's products that require their users to write some firmware code in order to use their sensor, we are completely "Plug and Play" says Bernard Rousseau, Director of Marketing. "With Phidgets, you plug it in and start using it and when it comes to programming, the user, not us, decides which operating system and which computer language he wants to use", added Rousseau.

Users can program Phidgets using a simple yet powerful and well documented Application Programming Interfade (API) that is supported under Windows (2000, XP, Vista), Windows CE, Mac OS X, and Linux. Users can write programs in Visual Basic, VB.NET, C#, C/C++, Flash/Flex, Java, Labview, Matlab, ActionScript 3.0, and Cocoa.

Phidgets also provides programming examples for all its products to help programmers write their own programs. The API Libraries as well as the examples and the documentation are available at no charge on Phidgets.com.

Pricing and Availability
The 1047 - PhidgetEncoder HighSpeed 4-Input is available now. The suggested resale price is $100.00 Canadian.

About Phidgets
Phidgets, Inc. is a technology leader in the design and manufacture of low-cost control and sensing modules connected to personal computers through the USB port. Phidgets products are well suited for fast prototyping and non-critical commercial applications. The privately held company is based in Calgary, Alberta, Canada.

Sales Inquiries: sales@phidgets.com

Related