EMAG's New VL 1 TWIN Provides High Precision and Long-term Accuracy
Press Release Summary: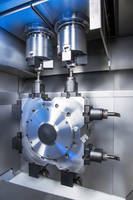 Ideal solution for turned parts with diameters of up to 75 millimeters (3 inches)
Equipped with an extensive parts storage area for raw and finished parts
Ensures low cycle times, guarantees high component quality and minimizes investment costs
---
Original Press Release:
VL 1 TWIN Line from EMAG: a Pioneer for The Production of Planetary and Sun Gears, Cams and more!
The challenges in the automotive industry are growing—and fast. Take transmissions for instance: Existing systems such as automatic torque converters and dual-clutch transmissions are constantly being enhanced. These are being supplemented by unique hybrid drives and assistance systems, which increase the complexity of the overall system. In this context, the main goal of quality managers is "zero fault tolerance," now more than ever. Each component must flawless when they leave the production area - and at the lowest possible unit costs. With its new VL 1 TWIN, EMAG shows how a highly specialized machinery manufacturer is able to master the challenge. The twin-spindle pick-up turning center for components up to 75 millimeters (3 inches) in diameter simultaneously machines two identical components in a single machining area. At the same time, equipment such as the innovative linear motor and the direct distance measuring system in the X-axis provide precision and long-term accuracy. This makes the production of essential transmission components, such as planetary and sun gears, significantly more efficient. It also improves the manufacturing of cam parts, flanges, sleeves, and roller bearing rings at every level.
"Quantity and quality" are shaping transmission manufacturing more than ever: Considering the increasing number of gears in transmissions, the quantity of gears and other toothed components produced is undeniably on the rise. At the same time, the quality of the components must also increase in order to achieve the power density required in modern transmissions. The performance features expected of transmissions, such as a long service life with optimal dynamic response, also still apply. Is it at all possible to reconcile growing quality and productivity requirements with generally increasing pressure on costs? "That was precisely our goal," says Peter Loeztner, President & CEO at EMAG L.L.C. "We have developed a low-cost machine, that enables high output volumes with short lead times due to its two pick-up spindles and also ensures dynamics as well as repeatability and long-term accuracy with its direct distance measuring systems in the X-axis, size 45 recirculating roller guide rails, and innovative linear motor. It is the perfect solution for turned parts with diameters of up to 75 millimeters (3 inches)."
Minimizing Cycle Times
The possibilities made possible by this approach become clear from a simple description of the production sequence: A simultaneous process (OP10/OP10) is performed on two identical workpieces, quickly, within the machine. Both components are picked up from the conveyor belt by the two pick-up spindles (9.9 kW/136 Nm at 40% duty cycle), transported to the machining area, and machined in a single clamping operation—the diameter and length (X/Z directions) of the two components can be adjusted independently, since the movement of the spindles is entirely autonomous. The linear motor in the X-axis combined with the direct distance measuring system also increase the speed in the simultaneous sequence. What cycle times are possible with these features? "It obviously depends on the component and process," says Peter Loetzner. "Generally, the average chip-to-chip time is just under five seconds.
VL 1 TWIN Line
EMAG uses the productive twin approach for advanced manufacturing solutions. For example with the VL 1 TWIN Line: two VL 1 TWIN machines are linked together using the TrackMotion automation system. Machining is then performed simultaneously on two sides of two components in OP10 and OP20. This allows for cycle times of less than 20 seconds to be achieved for the entire OP10/OP10 and OP20/OP20 sequence—an incredibly low figure, ensuring significantly lower unit costs for the soft machining of planetary gears. The system is also equipped with an extensive parts storage area for raw and finished parts. The use of space optimized stacker pallets allows for a large number of components to be accommodated in a very small space. Doing so, by stacking the parts as the name already implies. With the TrackMotion automation system linking machines, EMAG is able to deliver multi-technology production lines. Let's take gearwheels as an example: After machining two sides of the blank using two VL 1 TWINs, an EMAG hobbing machine cuts the gear teeth on the component. Finally, deburring is performed with EMAG technology in OP40. The TrackMotion automation system allows for a fast pace between operations with a maximum travel speed of 150 m/min (5,905 in/min).
High Quality— Low Cost
A goal during the development of the VL 1 TWIN was to achieve consistent, high quality workpieces – as evident by various configuration details. For instance, there is a direct and extremely precise distance measuring system in the X-axis, the recirculating roller guides ensure high rigidity as well as guidance precision, and the MINERALIT® polymer concrete machine base reduces vibrations during the turning process. An optional measuring system between the machining area and the pick-up stations continue to increase the process reliability. "Extreme precision and long-term accuracy are always an integral part of this machine," says Loetzner. However, the fact that these high requirements are achieved with low investment costs for the user may be the most surprising highlight of this technology. EMAG is committed to rigorous cost control during the entire development process and also uses standardized high-performance components. This is how the price per spindle was significantly reduced. The basic machine (without chip conveyor and automation system) has a footprint of only 4.59 square meters (50 square feet) —and this will naturally cuts costs even further when establishing a new production process. "With this turning center, we really bring all the decisive factors together," concludes Peter Loetzner. "The VL 1 TWIN ensures extremely low cycle times, guarantees high component quality, and minimizes investment costs. Additionally, we're able to configure highly flexible system solutions for both sub-processes and complete processes. At the end of the day, our customers benefit from significantly lower unit costs."
Contact for press and publications
Markus Isgro
EMAG GmbH & Co.KG
Austrasse 24
D-73084 Salach
Phone: +49(0)7162/17-4658
Fax: +49(0)7162/17-199
E-mail: misgro@emag.com
www.emag.com
Related