Electronic Enclosure organizes multiple development boards.
Press Release Summary: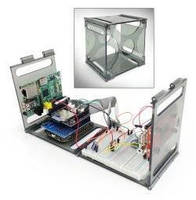 Using flat or folded approach, Board-ganizer keeps components of design project in one place, and facilitates storage and transport of breadboarded designs. PC development boards attach to enclosure using adhesive rubber feet. Up to 3 development boards and 1 breadboard may be installed on single enclosure. With hinged design, Board-ganizer lets users work on project with boards located side-by-side and later fold project into 5 x 5 x 3 in. enclosure with no need to disconnect wires.
---
Original Press Release:

Bud Industries' Board-ganizer(TM) Enclosure Provides a Stow-Away Workspace for Multiple Development Boards



Unique Enclosure Solves Problem of Organizing and Protecting Breadboard Projects under Development



CLEVELAND, Ohio — Bud Industries, a leading manufacturer of electronic enclosures, announced a solution to the problem of organizing multiple development boards and a maze of wiring. Using a revolutionary "flat or folded" approach, the patent-pending Board-ganizer enclosure provides a tidy work platform, keeps components of a design project in one place, and makes breadboarded designs easy to store and transport. A video demonstration is available at www.budind.com/90.



Popular PC development boards such as the Raspberry Pi, Arduino, Freescale Freedom, etc. easily attach to the Board-ganizer using adhesive rubber feet. Up to three development boards and a breadboard may be installed on a single enclosure.  The enclosure's hinged design makes it easy to work on a project with the boards located side by side and later to fold the project into a compact 5"x5"x3" enclosure with no need to disconnect any wires.



Ideal for designers, hobbyists and students, the enclosure kit includes four side panels and two snap-in top panels, all molded of smoke-colored ABS plastic. It also includes 20 adhesive rubber feet and four pins for connecting the side panels together. Both 600- and 300-tie-point solder-less breadboards and a jump wire bundle are available as accessories.



"With the Board-ganizer, application developers can stop worrying about what the cleaning crew might accidentally do to their projects after the workday is over—they can just fold it up and store everything safely away," said Blair Haas, Bud Industries' President. "It offers similarly convenient storage for the home and classroom."



Price and Availability

Available for immediate delivery from stock, and priced at $16 per kit, the Board-ganizer offers an economical solution to the messy workspace, storage and mobility challenges of electronics design projects under development.



More information on the Board-ganizer kit is available on the Bud Industries website at: www.budind.com/91. To contact Bud Industries:

Phone: 440-946-3200

Fax: 440-951-4015

Web: www.budind.com

Email: saleseast@budind.com



About Bud Industries, Inc.

Founded in 1928, Bud Industries, Inc. is the nation's leading manufacturer of enclosures and related products for the electronics and data industries. The Bud line includes products ranging from small hand-held boxes to large cabinet racks, products made from plastic as well as metal, and standard electronic products as well as those that meet NEMA and seismic requirements. Bud's standard product line of more than 2,500 products is heavily stocked by distribution channels as well as by the company itself, allowing same-day shipment of more than 90 percent of the enclosures sold. Bud can make simple modifications to most enclosures to your specs in five days. Custom products are also available, as is complete design support.

Related